Navigating the world and its terrors is easier for knowing these women are there, forever.
Most days, my work is just like every other basic desk job — a grey-walled cubicle, tedious work at the computer. But it's not as drab as it sounds. In fact, it's black and white and out of sight!
You see, I work for the Dominican Sisters of Mary, Mother of the Eucharist, in Ann Arbor, Michigan. The work, meetings, and phone calls are all for the purpose of supporting a mendicant order of around 120 sisters. It's always fun explaining to people that in the cube next to me is a woman who only ever wears white with a black veil, and who no longer uses her legal name.
And if that weren't weird enough, I told my best friend a couple of weeks back that I was getting a day off from work. No, there wasn't a holiday she'd forgotten—I was headed to the sisters' professions of final vows. Basically, I got out of the office for a mid-week wedding.
So, I dressed up and went to church, and got lucky with an angled pew that gave me a vantage point to watch the faces of the seven sisters making final vows and many of their family members.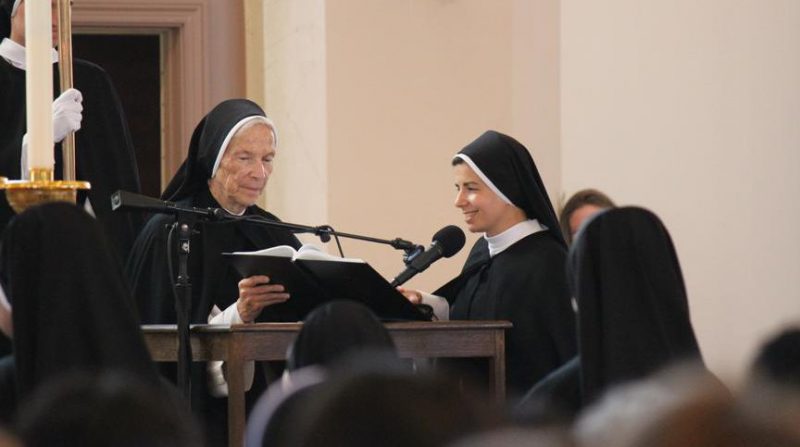 With the rest of a full church, I listened to the bishop's sermon as he told the seven sisters to "listen and pay attention to all the ways your Groom will work in your lives." I saw the sisters lie prostrate on the floor before the altar, and with the whole community and congregation I chanted the Litany of the Saints, calling for the intercession of all holy Dominican men and women.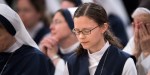 Read more:
21 years old, and entering a cloistered convent? An interview with my little sister


As each sister approached, one by one, to clasp Mother Assumpta's hands, I heard them repeat the words of their vows, each strong, steady voice enunciating "for all my life."
Joy was everywhere — chest-tightening, your-face-can't-contain-it, can't-stop-smiling-but-also-crying joy. The kind of joy that makes the plainest face radiant and beautiful, and you have to break out the Kleenex, but that's okay, because pretty much everyone around you is sniffling or wiping their eyes, too.
On the sisters' faces, I saw not only that same joy, but deep, overwhelming peace. As each woman returned to kneel at the altar after professing her vows, her relationship with Christ became something luminous — as visible and tangible as a bride's ring. It was as if nothing else mattered, nothing but the complete knowledge of fulfilling God's will in that moment.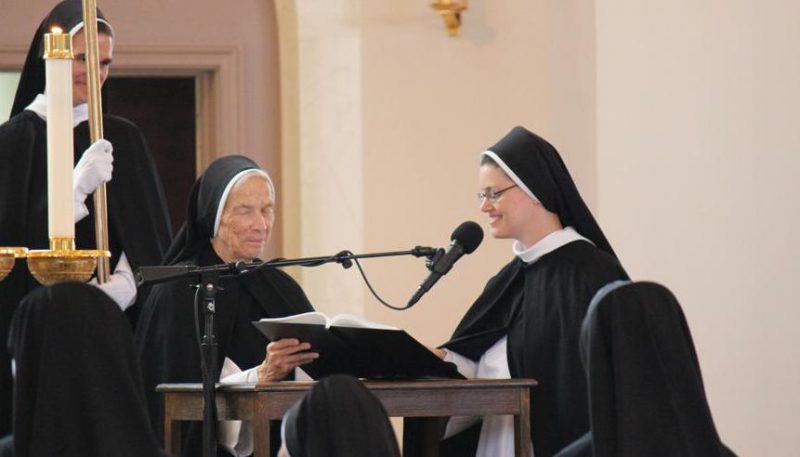 In a culture concerned with disposable pleasures and instant gratification, these women possess an almost intimidating level of holy courage. "For all my life" isn't a platitude or a breakable promise – it is a grave consent to self-immolation. One hand on the Bible, these women offered to offer up their lives for the sake of the Gospel, and for fully living out their relationship with Christ.
For this Millennial, reading scary headlines and fighting for virtue in the vagaries of modern culture becomes a whole lot easier with the knowledge that the joy and peace I witnessed isn't going away. It's here to stay, in my life and in the lives of everyone who meets these sisters, if they have anything to say about it. And that's what makes my 8-to-5 totally worth it.


Read more:
My best friend became a nun!


---
The Dominican Sisters have recently released a thought-provoking book on vocational discernment, called And Mary's Yes Continues.
It brings together contributions from priests and laity, as well as sisters from various communities, to give an inside view to the process of hearing God's call. It aims to provide individuals who are discerning a vocation, as well as their families and loved ones, with accompaniment in the special call to religious life.
It's available in a hard cover and paperback, here.