New Orleans' iconic golden statue tagged with "Tear it down!" graffiti. In the midst of mob-and-moment, let's think about what we're doing.
The golden equestrian statue of St. Joan of Arc, the Maid of Orleans, stands on Decatur Street in New Orleans' historic French Quarter. A gift from France in 1972 to honor the city's French heritage, the statue is the focus of an annual community parade organized by a group devoted to the 15th-century saint and military heroine.
Joan, of course, has no connection to the Confederacy or to American history. But that didn't stop someone from spray-painting "Tear it down!" on the statue earlier this year, according to Nola.com. The graffiti has since been removed, though stains remain, but the incident raises questions.
Did someone mistake a woman in medieval armor for a Southern general? If so, it wasn't anyone associated with New Orleans' active Tear 'Em Down (TED) movement, which advocates for removing monuments to the Confederacy from public places.
"Joan of Arc is not on our radar," assured Malcolm Suber, a leader of the New Orleans TED group.
The timing of the tagging, in early May, might suggest another source of dissatisfaction with Joan of Arc. On May 2, French Nationalist Front Party leader Jean-Marie Le Pen, father of failed French presidential candidate Marin Le Pen, led a nationalist, anti-immigrant rally in Paris, with the duplicate of New Orleans' golden St. Joan statue as the focal point.
Having St. Joan caught up in the statue-toppling frenzy, whether by accident or purposefully, illustrates what a lightning rod a public memorial can be. With a few exceptions (one of the best-known being another New Orleans monument, that of "Margaret," Mother of Orphans), public monuments are chosen and commissioned by those in power at a given time, in a given place. The values they represent may not prove to be evergreen or worth emulating by all the community's citizens. We may even be incapable of seeing in such monuments what others see.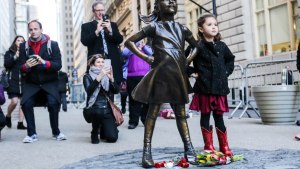 Read more:
A girl, a bull and women on pedestals: A gallery of public art depicting real-life women
Catholics understand this when it comes to the controversy over memorializing Christopher Columbus or St. Junipero Serra, whom some see as symbols of European oppression of indigenous peoples and others revere as contributors to the nation's Italian, Spanish, mestizo and Catholic cultures. We do not need to be reminded that few of this country's founders did not participate, personally or institutionally, in the trafficking of African peoples. Does allowing statues with problematic associations to stand mean we accept them without condition? Does toppling them mean we destroy troubling history, at the risk of forgetting and repeating it? And who is the "we" here?
This most recent statue-toppling trend may run its course, but it leaves these and other very real questions. We hope to explore these further in coming days.