Add spouse-affirmation to the same list as exercise and eating well ... it isn't always fun, but it ALWAYS pays off.
What can God do in your life with one Bible verse a day?
Subscribe to Aleteia's new service and bring Scripture into your morning:
Just one verse each day.
Click to bring God's word to your inbox
Marriages are sensitive to habit and momentum, for better or for worse. We get to pick the fuel. If we choose to power our relationship with negativity, it only takes a few drops and the machine will run on its own. If we choose to put in a little bit of work on the front end, however, we will be pleased to see that intentional charity always pays dividends.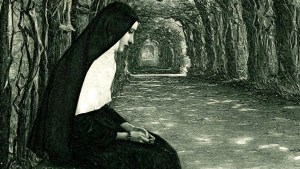 Read more:
How an American woman became a nun to let her husband become a priest
Much like a work environment, marriage can quickly feel like drudgery when there is score-keeping, slander, sarcasm, or passive aggressiveness. But, when marriage is marked by a mutual building up of one's spouse in private but especially in public, there is an increased desire to invest even further in the relationship.
Michael Hyatt, a former publishing house CEO and now the founder of his own high-profile leadership development company, writes that speaking well of your spouse strengthens your spouse's best qualities. Affirming your spouse publicly also provides a solid example to those you lead while simultaneously warding off temptations toward infidelity.
When we speak well of our spouse, we pledge allegiance to them. We are telling other people that we value what we have built and that we are committed and invested. This is a natural adultery-repellent. Even if you feel a little shaky in certain areas of your marriage, affirmation of our spouse reminds us of God's will for our vocation in weaker moments when we especially need the reminder.
We've all been in social situations when the conversation veers into the land of spouse-bashing. It is common and almost impossible to avoid wherever wives are gathered. Frustration and the desire for support are often the reasons we air the proverbial laundry. We've all been there but, at the end of the day, no one actually wants their granny panties in full view.
Read more:
The only way to win the "Bragging Game"
St. Josemaria Escriva speaks to the difficulty of cultivating the habit of building instead of destroying. "To criticize, to destroy, is not difficult; any unskilled laborer knows how to drive his pick into the noble and finely hewn stone of a cathedral. To construct: that is what requires the skill of a master."
Some days, finding a compliment may feel far beyond your abilities. Life can push back hard against even the most steadfast hearts. See it as a challenge. Mental fortitude is an across-the-board highly valuable quality to nurture. Add spouse-affirmation to the same list as exercise and eating well. It isn't always fun but it ALWAYS pays off.
Here are some practical ways to turn the tide at mommy-group or in any other public place you happen upon:
Focus on adding, not subtracting
It is easier to introduce a new habit than to kill an old one. Focus on doing something totally new to honor your spouse publicly. Focus on a specific gift or skill they possess. Tell your friends about the sandbox he built in the backyard. The negative stuff will slowly be booted out the backdoor once the new habits have moved in. Also, notice how other wives will chime in once you get the ball rolling.
Think!
The next time we think about sharing a juicy story about our spouse's latest fail, remember: we are showing our listeners how we treat those who are closest to us. We are telling them something about the kind of friend we are. Would you want to be friends with you?
Be lavish
Dig deep with your compliments. At first it will feel unnatural but there is a sweet little kick-back to this whole affirmation business: you get more of what you affirm. So when you see something that you like, spread the love like a 3-year-old spreads icing. Lay it on thick.