Not all crosses are the same, and each has its own symbolism.
Throughout the history of the Church, Christians have visually represented the cross in different ways. In each case the cross is slightly different and used to symbolize different spiritual truths.
Here are five such crosses that have been used over the centuries by Christians around the world.
Papal Cross

This cross is used officially in heraldry when representing the office of the pope. The three-tiered cross in reminiscent of the papal tiara that popes used to wear to indicate the threefold office of Christ as priest, prophet and king.
Celtic Cross

Most common in Ireland, the Celtic Cross features a typical Christian cross in front of a circle. While the exact origin is unknown, many link it to St. Patrick and claim that he introduced it as a way to convert pagans. The cross is placed in front of the sun, which the pagans worshipped, showing Christ's supremacy over the natural world. Also, it links Christ as the source of light and life. It is sometimes called the Sun Cross.
St. Andrew's Cross

A cross frequently used in national flags, it was originally developed to symbolize the type of cross that St. Andrew the Apostle was crucified on. A story relates how St. Andrew requested to be crucified on this type of cross (also known as a "cross saltire"), as he felt unworthy to be crucified in the exact manner of Christ.
St. Peter's Cross
Similar in origin to the St. Andrew's Cross, the Cross of St. Peter was based on the story of Peter's crucifixion. Peter felt that he was not worthy to be crucified in the manner of the Savior and requested to be crucified upside down. For this reason this cross is often used to represent humility. It is sometimes used in reference to the pope, who is the successor of St. Peter.
Byzantine/Orthodox Cross

An early depiction of the crucifixion, the Byzantine Cross was adopted by Byzantine/Orthodox Christians and continues to be used in their churches to the present day. The top bar of the cross represents the plaque nailed to the top of the cross by Pilate (reading Jesus of Nazareth, King of the Jews). The second bar represents the horizontal beam that Jesus' hands were nailed to. The third bar represents the footrest that would have been used to support Jesus' feet. It is slanted upwards to one side in recognition that the good thief crucified on Jesus' right was granted heaven. The Orthodox liturgy refers to this symbolism on Fridays.
In the midst, between two thieves, was Your Cross found as the balance-beam of righteousness; For while one was led down to hell by the burden of his blaspheming, The other was lightened of his sins unto the knowledge of things divine. O Christ God, glory to You.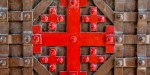 Read more:
The meaning behind the Jerusalem Cross