Roman historians' writing and archaeological evidence confirms the identities of political figures during Jesus' time.
What can God do in your life with one Bible verse a day?
Subscribe to Aleteia's new service and bring Scripture into your morning:
Just one verse each day.
Click to bring God's word to your inbox
What if it were possible to prove that the historical characters mentioned in the Bible actually existed?
One scholar is trying to do just that, and he believes that by establishing the Bible's historical credibility, he will make it more accessible to believers and nonbelievers alike.
First, Purdue University professor Lawrence Myktiuk used the archaeological record to verify the existence of 53 individuals mentioned in the Old Testament. He subjected each figure to a rigorous test, using inscriptions to confirm that each person mentioned actually lived. His findings, published by the Bible Archaeology Review, include Israelite kings and Mesopotamian monarchs among other notable figures.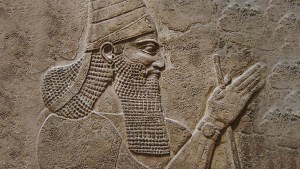 Read more:
Purdue professor proves 53 people in the Bible lived
Now, he is moving on to the New Testament. Using the works of Roman historians and archaeological evidence, Myktiuk, has compiled a list of New Testament political figures whose existence has been confirmed outside of the Bible.
Myktiuk's list, published at the Bible Archaeology Review website, includes the names of 23 political figures including  Roman emperors, members of the Herodian family, Roman legates and governors and other rulers mentioned in the New Testament, and the evidence he found to prove they actually existed.
In his "Evidence Chart," Myktiuk notes that Pontius Pilate, the Roman prefect who ordered Jesus' crucifixion, for example, ruled between the years 26 and 36, and was mentioned in Josephus' Antiquities and Wars, Tacitus' Annals, and Philo's De Legatione ad Gaium. Further evidence of his existence, he notes, was found on the Pilate Stone discovered at Caesarea Maritima and on Roman coins.
After the publication of his findings on characters in the Old Testament, Myktiuk said that his work had done much to establish the credibility, from a historical point of view, of the Bible.
"This evidence shows that it is not essential to have religious faith in order to and accept much of what the Bible presents. It demonstrates that even on the basis of writings outside of the Bible alone, Scripture does have a considerable degree of historical credibility."