Did you hear the news about a beatification of the Puerto Rican baseball star?
Need an idea for Lenten almsgiving?
Help us spread faith on the internet. Would you consider donating just $10, so we can continue creating free, uplifting content?
Make a Lenten donation here
Last week, news spread quickly around secular social media that Pope Francis had confirmed plans to beatify Pittsburgh Pirates legend Roberto Clemente.
Clemente, a right fielder originally from Puerto Rico, has an impressive baseball resume: a .317 career batting average with 240 home runs, and 1,305 runs batted in.
Some say his resume for a life of virtue is equally impressive: Clemente was a devout Catholic known for his extensive charitable efforts. He died in a 1972 plane crash on his way to deliver aid to earthquake victims in Nicaragua. He was just 38 years old at the time of his death.
Unfortunately for Clemente fans, the news of his impending beatification is false.
The Vatican denied the reports, despite efforts put forth by a Clemente documentary film maker.
While the player known as "Sweetness" may not be getting added to the official roster of the Heavenly Host any time soon, this news did get me thinking about four of the actually canonized/beatified who may have been able to match Clemente's supreme sports skills.
St. Sebastian
The patron saint of athletes has to top our list!
St. Sebastian was known for his impressive service in the Roman military, but found other pursuits to be more important. He converted to Christ many of those he came into contact with, and while this showed his dedication to Our Lord and His Church, it also eventually led to his death.
He was discovered and reported to Emperor Diocletian, who ordered Sebastian to be killed by way of being tied to a post and used for archery target practice.
The order was carried out, to the point of Sebastian being described as "full of arrows like an urchin," and he was left for dead.
His impressive strength combined with the grace of God, however, allowed him to survive the attempted martyrdom, and he walked away to live another day.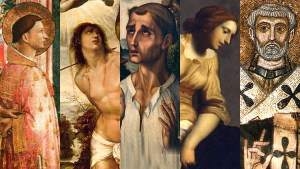 Read more:
5 Saints whose patronage came from the way they died
Blessed Pier Giorgio Frassati
The social activist and member of the Third Order of St. Dominic is most likely to be picked first for all the softball games going on in Heaven these days.
Blessed Pier Giorgio climbed mountains, was well known as a fantastic swimmer, and stood out among his group of friends as an all-around excellent athlete. Much is written of his fun demeanor and great sense of humor; he was often playing pranks on peers just to get a laugh. Combine that with his unwavering love of the poor, and his routine sacrifice of the things that were handed to him due to his social status, and we've got ourselves quite an example to live up to.
He also holds the distinction of being the inspiration for Olympian and cross-country skier Rebecca Dussalut, who visited Frassati's tomb and kept his medal close by during her competitions.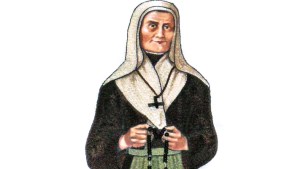 Read more:
High-spirited, mischievous, prank-pulling … and a saint
Blessed Chiara Badano
Many have seen the smiling face of the "first person beatified from Generation X," as Blessed Chiara is known, but far fewer know of her amazing athletic ability
Chiara loved to sing, dance, and play tennis, the last of which actually played a large role in her life of faith.
An article from OSV Newsweekly by Michael Heinlein fills in the details:
"While playing tennis, she experienced a sharp pain in her shoulder, and after rounds of tests, a diagnosis of bone cancer was given. Doctors said she had a rare and painful form of the disease. Chiara was filled with a profound trust in God's will and was now realizing the extent of her desire to be united with the forsaken Christ. No complaining came from her, 'It's for you, Jesus; if you want it, I want it, too.'"
Chiara's amazing example continues to inspire all of us to offer up our pain (even pain for the sake of athletic pursuits) for Christ.
Read more:
"Computer geek" takes one more step toward sainthood
St. John Paul II
While the frequently shared You Tube video of a man appearing to be Pope John Paul II crushing balls in a batting cage may be a fake, the fact that he was a gifted athlete is indeed true. The pope was known to have said that every Christian is called to become a strong athlete for Christ, but he went well beyond that.
USA Today called him "the most athletic pontiff in history," and the many photos documenting his skiing and hiking definitely seem to back up that title.

As a child, young Karol Wojtyla played goalie on his local soccer team, and pilgrims still flock to the spot where he worked hard to keep the ball out of the net for his squad. When he wasn't playing soccer, he was most likely swimming in a nearby river, or playing ice hockey when the water would freeze over every winter.
He was also known to swim laps in the pool at Castel Gandolfo well into his 82nd year of life!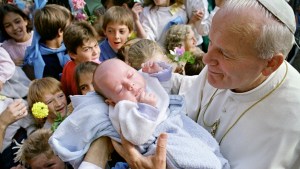 Read more:
A day in the life of John Paul II
So while Roberto Clemente may not be joining the ranks of the canonized saints of the Church anytime soon, it's pretty clear that we've already got some great athletes to call on when we're in need of some heavenly intercession.
Maybe St. Paul was onto something with all the references to sports he included in his letters …