An overview of how the pope has enriched the canon of saints
What can God do in your life with one Bible verse a day?
Subscribe to Aleteia's new service and bring Scripture into your morning:
Just one verse each day.
Click to bring God's word to your inbox
Over the last 12 months, Pope Francis has canonized 10 saints. Through them, the pontiff has shown his interest in enriching the diversity of the Catholic pantheon of saints. Various countries, such as Albania and Argentina, have been represented by recent canonizations.
During the largest canonization ceremony in recent months, on October 16, 2016, Pope Francis recognized the sanctity of the first martyr of the French Revolution, Salomon Leclercq (1745-1792); the first Cristero martyr, the young Mexican José Sánchez del Río (1913-1928); and also the second Argentinian saint, Fr. José Gabriel del Rosario Brochero (1840-1914).
Read more:
The "gaucho priest" will be the first "real" Argentinian saint
Another martyr greatly honored by Pope Francis is Fr. Jacques Hamel, killed in France last July 26. In October, the pope decided to dispense with the 5-year delay habitually required for opening a process of beatification. On September 14, during a particularly forceful homily at a Mass for the repose of the soul of Fr. Hamel, Pope Francis already stated that Fr. Jacques "is part of this chain of martyrs … Martyrs are blessed, and we should pray to him."
Read more:
Eyewitness report: Father Jacques Hamel's last moments
The canonization of various Church figures
On September 4, 2016, Pope Francis pronounced in Latin the rite of canonization of Mother Teresa of Calcutta (1910-1997), declaring her a new saint of the Catholic Church, 19 years after her death and 13 years after she was declared blessed.
Read more:
I'm back from Calcutta and still having nightmares
On May 13, during the course of his apostolic voyage to Fatima (Portugal), Pope Francis canonized two of the three little shepherds who saw the Virgin Mary 100 years ago, Francisco (1908-1919) and Jacinta (1910-1920) Marto. They are the youngest non-martyrs to be proclaimed saints in the history of the Church; the brother and sister were, respectively, 11 and 10 years old when they died.
More recently, last July 8, another figure caught the pope's attention: French philosopher Blaise Pascal. During an interview, Pope Francis expressed his personal opinion that the French thinker "deserves beatification," and that he would ask the opinion of the Congregation for Saints' Causes.
The offering of one's life
In July, Pope Francis promulgated a document titled "Maiorem hac dilectionem"—"Greater love than this"—announcing a new justification for opening a process of beatification or canonization: the offering of one's life. This measure could widen even a bit more the possibilities of canonization.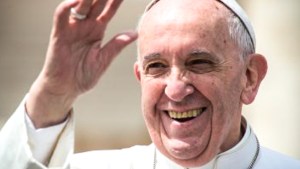 Read more:
Giving your life for another can lead to canonization, pope decides
This could be applied, for example, to those in the past who helped people suffering from the plague, and who, in turn, died of this disease. Or, more recently, it could be a valid path for Chiara Corbella, who died on June 13, 2012, after having refused treatment for cancer that would have put at risk the life of the child she was carrying in her womb. Her process of beatification is currently underway in Rome.
Read our interviews with Chiara's husband:
Interview: The husband of Chiara Corbella on his wife's sacrifice and possible canonization
and
On the road to sainthood: The widower of Chiara Corbella talks about his wife's faith and their marriage