Imagine what the world would be like if each of us did what he advised!
What can God do in your life with one Bible verse a day?
Subscribe to Aleteia's new service and bring Scripture into your morning:
Just one verse each day.
Click to bring God's word to your inbox
They took down a Confederate statue in a park near my house the other day. It had become a focal point for major political and social disagreements to morph and grow, so the city quietly had it taken away. Perhaps it was the right solution, perhaps not. I don't really know. What I do know, however, is that the statue itself wasn't really what was causing the lack of peace.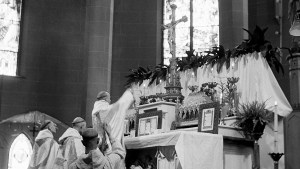 Read more:
Super rare photo of Thomas Merton's first Mass
There seems to be something in the air these days, and folks are less and less willing to work towards peaceful solutions to disagreements. It isn't only in the public square that peacemaking seems impossible. Small or large personal disagreements or slights take on a life of their own and friendships are ruined or families split on an all-too-regular basis.
I think it's high time for a refresher course on keeping the peace. It has to be possible. After all, we aren't debating any topics of more consequence than in the past. For instance, not too long ago in the earlier half of the 20th century, the monk Thomas Merton was involved in a movement that urged peacemaking among world governments instead of continuing a suicidal arms race. This was a time when verbal sparring between governments could have literally started a nuclear war. Merton's advice wasn't limited to a political solution or to blame others to justify retaliation. Instead, he had one, simple piece of advice. In his book, Seeds of Contemplation, he writes:
"Instead of hating the people you think are war-makers, hate the appetites and disorder in your own soul, which are the causes of war. If you love peace, then hate injustice, hate tyranny, hate greed — but hate these things in yourself, not in another."
Read more:
Why My Generation Loves Thomas Merton
For Merton, the solution is personal. Instead of attacking actions and thoughts in others we deem unjust, each of us can first look inside our own hearts. Am I at peace with my own actions on a daily basis? Am I really comfortable with how angry I get over political or social debates in the news? Am I proud of that vitriolic comment I made on a blog post, or the way I alienate people for the way they dress, or because of the bumper sticker on their car, or their religion?
These are searching questions to ask of ourselves, and we may not like the answers. Perhaps this is why Merton cautions, "Peace demands the most heroic labor and the most difficult sacrifice."
The first and most simple way to bring about peace is to make peace within ourselves. Only then is it possible to interact peaceably with others. We never know if we can influence the behavior of anyone else, but we can certainly change our own. It's a simple solution, but one that takes a lifetime of self-examination to implement. It may seem too simple, and it certainly wouldn't make all our disagreements disappear, but if we all tried it beginning today, what would the world be like?