The Lord is the stronghold of my life; of whom shall I be afraid?
The Catholic practice of invoking the saints is deeply rooted in Church teaching.
The Church teaches that saints "do not cease to intercede with the Father for us … by their fraternal concern is our weakness greatly helped." (Catechism of the Catholic Church, 956)
Assigning certain patronages to certain saints is a common element of Catholic tradition, a part of popular religiosity, which helps us to remember that God is watching over us and involved in our daily lives, down to the smallest details.
Some saints have gotten their patronage because of how they died. Others get it because of miracles they interceded for. Others patronages have developed for reasons lost to history.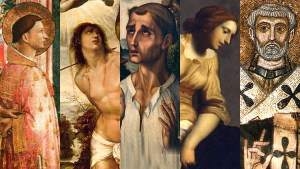 Read more:
5 Saints whose patronage came from the way they died


Read more:
The patron saint of TV… from the 13th century?


But here are two saints invoked in times of bad weather, and a psalm to pray in the midst of storms.