Here's how to wade through the excuses and get motivated about that tasks you dread.
Need an idea for Lenten almsgiving?
Help us spread faith on the internet. Would you consider donating just $10, so we can continue creating free, uplifting content?
Make a Lenten donation here
We all have tasks that we put off longer than we should. Whether it's scheduling a routine dentist appointment, doing laundry, or sending off a birthday card, procrastination gets the better of us at some time during our week. While we often notice the avoidance, we can't always put a finger on what's holding us back. Exploring that question is the first step in breaking through procrastination.
Exploring the procrastination
I will often ask myself in exasperation, "Why can't I just get this done?" It's the right question, but the wrong tone. When we notice that an item is hanging around on our to-do list, rather than admonishing ourselves, we can explore what's holding us back. By asking, "What's keeping me from moving forward?" we can connect with the resources or the solutions we need.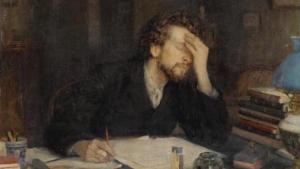 Read more:
Leaving procrastination for later
Exploring potential barriers allows us to focus on specific aspects of the process. We can assess our own feelings about the task, whether we have the right tools, or if we need help from others. You can ask: "How do I feel when I approach the task?" If it brings up anxiety, you may need to do a relaxing breathing exercise before you start. Do you even know where to start? Perhaps you need to plan it out. Do you feel overwhelmed? If so, you can break it down into smaller steps. Does it feel you never have time to do it? Sitting down and scheduling it on your calendar may be the key to success. By pausing to reflect on what it is that's stopping you, you avoid being self-critical, and instead create a mindset where solutions can grow.
The myth of "the right headspace"
We often avoid tasks, believing that a magical day will arrive when we finally feel comfortable working on it. Unfortunately, if it's a chore we truly dislike, or that causes anxiety, that day will never come. It can be helpful to prepare for tasks we dread, including getting a good night of sleep, proper nutrition, hydration, and a few minutes of relaxation. However, we also benefit from accepting that there's no way around the process, we simply have to go through it. Rather than waiting to be in the right headspace, it's helpful to recognize, "now is as good time as any."
By debunking the myth of "The Right Headspace," we acknowledge that some parts of daily life are simply difficult and draining, and will cause some distress. By accepting that some tasks come with more challenge, we're more likely to pat ourselves on the back for a difficult job well done. We're also less likely to focus on our own deficiencies, and focus on the level of challenge instead.

Give yourself some credit
In his book, Nurture Shock, Po Bronson highlights a study which demonstrated that children praised for working hard, rather than for their inherent ability, were more resilient and more likely to take on future challenges. Two groups of children were given tasks, and upon completion, one group was praised for being smart, while the other group was praised for working hard. When both groups were later given tasks that significantly challenged their abilities, the children who had been praised for their intelligence were discouraged, believing their struggle reflected a deficiency in themselves. The group praised for their hard work were able to make more progress, and interpret their experience of struggle as a sign of inner strength, even if they were not able to complete the assignment.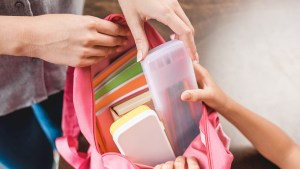 Read more:
5 Ways to have the most organized school year yet
It can feel difficult to give ourselves credit for doing the laundry or paying bills, as we assume everyone else in the world does such things without breaking a sweat. It's easy to get into the pattern of asking, "What's wrong with me, that this is so difficult?" However, we can instead choose a more supportive posture, accepting our specific challenges as our part of our own unique experience, and congratulate ourselves for tackling a difficult task. Paying attention to the process in a positive way paves the way for future successes. Rather than expecting that some day the task will be easy, focus on your ability to overcome daily obstacles, increasing feeling of competence and self-esteem.
"Sometime" means never
At my clinic, I regularly review goals with my clients and often hear, "I will get it done sometime," or "I'll do it when I have time." This leaves the chore in an abstract no-man's land of intention, while remaining disconnected from a concrete plan that will lead to success. There are indeed some tasks that we simply "haven't gotten around to yet." But if it's an item that's been avoided for weeks, or even months, it might be time to consult your calendar, identify a time, and pencil it in. This provides both a method of completing it, and a commitment to taking action.
If you arrive at the scheduled time and are still struggling to complete it, this can prompt further exploration. Perhaps it wasn't a matter of time, but of know-how or resources. I recently realized the reason I'd been putting off re-painting my cabinets was not actually for lack of time, as I assumed, but because I didn't know where to start.
Break it down
A birthday card may sound like "just a birthday card," but there are numerous steps involved: going to the store, choosing a card (an overwhelming task in itself for some), writing in the card, tracking down the recipient's address, finding stamps, writing the address on the envelope, sealing it, and making sure it gets in the mailbox or to the post office.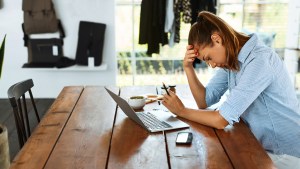 Read more:
Perfectionism doesn't look like we think it does
Rather than a single item like, "send mom a birthday card," write out each step on your to-do list. If you commit to checking off one step each day, it may take you up to a week and a half, but will ensure forward motion. You can give yourself credit for each step completed, rewarding yourself for continuing the task, even in small advancements.
Just get started
A common concern is the time a project will take. Whether it's not having time to complete the task, or an aversion to spending your whole morning on a project, we often avoid starting something because we're constrained by time. However, most projects can be broken into smaller pieces tasks and we can pause between each step.
Get a kitchen timer and set it for 15 minutes, and get to work. You may find yourself ready to continue after the initial 15 minutes, or you may want/need to take a break. Either way, these small "sprints" make the most of our energy, and help us make progress — even in small increments — on tasks we've otherwise been avoiding. Fifteen minutes today means 15 minutes closer to completion. As you make progress, you will feel accomplished which fosters positive emotions toward the task, rather than anxiety or dread.
There will always be things on our to-do lists that we'd rather outsource, but by paying attention to our aversion, and analyzing our own process of procrastination, we can build resilience, overcome every day obstacles, and make some serious progress on those tasks we so often dread.