With the rise of relationship-oriented apps, we have hope for the the future.
What can God do in your life with one Bible verse a day?
Subscribe to Aleteia's new service and bring Scripture into your morning:
Just one verse each day.
Click to bring God's word to your inbox
In a world where time seems a luxury, who has the patience to actually meet a guy, get to know the guy, fall in love, and get married? You're busy. He's busy. We're all very busy. And in response to that, cellphone apps have come up with a solution: you can order a date quicker than a pizza. But, let's be honest, most of these little digital dating pools are full of dates your mother would not approve of: guys who, well, probably aren't really looking for a serious commitment.
But before you despair, there is good news on the horizon in the world of apps. Yes, good old fashioned (well, late 19th century) digital dating is making a comeback! Last year, Hinge, a dating app that uses Facebook information to connect people, launched an entirely new "relationship" app for people who are interested in serious relationships, not just casual flings.
Read more:
Is Attraction Irrelevant in Christian Dating?
The company recognizes that swipe-type apps are almost like a game: "the swipe itself … is just as fun as having a conversation with one of your matches" explains the online magazine TechCrunch. (For those who are not au fait with modern dating practices, all you need to do is go on your choice of dating app, look at the profiles of contenders in your neighborhood who are free for a date, and if you like the look of them you swipe the screen a certain way; if not, you move on to the next "lucky" candidate.)
The CEO of Hinge, Justin McLeod, explains that "most of the dating apps out there are games designed to keep you single, and swiping is the most iconic feature of these games. That's why we're not even calling the new Hinge a dating app. We think of it as a relationship app." And he is right, dating, for most people, is not a game.
Stories of heartbreaking failures related to swiping dating apps abound: the app-mate didn't make an appearance, or if he did, he didn't resemble anything close to his picture, or worse still expected the user to hop into bed then and there. The consequences of using the app were more far-reaching than most users had realized. Firstly, as the app is popular among younger generations, there is peer pressure to sign up, and when they do, they find themselves in uncomfortable scenarios that they don't have the maturity to navigate. And considering the app is meant to be "social," a lot of users often feel lonelier after using it. Being "passed over" by a swipe too many times pokes holes in their sense of worth.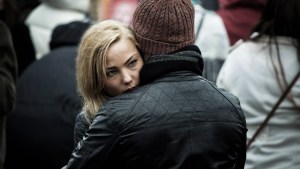 Read more:
7 Signs of a toxic dating relationship… and why you need to end it
It feels very far from meeting your college sweetheart or organically bumping into someone at a coffee shop and living happily ever after. How did this form of dating become so popular when it feels so wrong? The thrill of meeting someone (in the flesh) and hoping that things might develop into something special seems to have disappeared. And potential love-matches are all based purely on physical attributes. Aren't we taught that beauty comes from within, not from a seductive selfie uploaded onto a profile?
So relationship-oriented apps like Hinge give me a little hope that younger singles won't be swiping for much longer. If more online dating apps follow this trend and stop basing everything on looks and games, maybe they'll actually help people meet and connect in a real and honest way.
Right now, the Pew Research Center says that dating sites and apps are losing much of their stigma, with five percent of Americans saying they met their spouse or significant other online. And with the myriad of dating sites available, there are some which are specific to an individual's preferences, or philosophies. CatholicSoulmates, for example, allows you to broaden your search for that special someone, whom you might not have found at your own church or at your singles social events.
CatholicMatch.com boasts "Faith-focused dating," sharing numerous success stories online, such as John and Julie who found love seven years ago. John shared what attracted him to Julie: "[Her] incredible femininity, her contagious sense of humor, and her steadfast faith in God." John added that "she does many small things with great love, day in and day out, and always cares for others before herself."
And we loved the story of Jody, 68, and Jerry, 73, both widowed, who met online thanks to Jody "trusting that if the Holy Spirit was leading her, she'd find the person meant for her." Not only was she led straight to her new husband, she learned that it's never too late to find love.
So who knows, perhaps focusing on a little old-school romance and dating decency, that five percent of people who find real love online will start to rise even higher.