And both melt our hearts in the process.
What can God do in your life with one Bible verse a day?
Subscribe to Aleteia's new service and bring Scripture into your morning:
Just one verse each day.
Click to bring God's word to your inbox
One of the great marvels of modern living is that we're able to live longer, while hopefully staying in good health. We get to see our families  grow and perhaps impart our wisdom to the younger generations. However, what happens if you reach a ripe old age and you're all alone? As an oft-neglected group in our society, the elderly can live with crippling loneliness with no one looking out for them. So when a four-year-old birthday girl reached out to a recently widowed 82-year-old in her local supermarket, we couldn't help but share their adorable story.
Read more:
A widower's lament: My faith is strong, but dead is dead
On the day of Norah Wood's 4th birthday, she went grocery shopping with her mom, Tara, to buy some birthday essentials: cupcakes that she wanted to share with her six siblings. While mom was busy looking at some bargains, Norah excitedly waved to another shopper saying: "Hi old person! It's my birfday today!"
Luckily, the octogenarian shopper didn't take offense and replied: "Well hello little lady! And how old are you today?" Norah's mom explained in a post how after a brief exchange and some birthday wishes the elderly gentleman went on his way. Yet little Norah wasn't quite satisfied. She asked her mom if she could get a photo with the "old person." A few aisles later they met up again. Tara asked the widower if he would oblige and as she explains: "His expression rapidly morphed from confused to stunned to delighted."
After the snap the pair had a chat and Tara thanked the gentleman, whose name he said was Dan. And this is where the story takes a turn. "He teared up and said, 'No, thank YOU. This has been the best day I've had in a long time. You've made me so happy, Miss Norah." All it took was a simple conversation, an acknowledgement that he existed, that he was worthy of their time.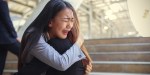 Read more:
How can I help a friend deal with suffering?


And this is just the beginning. With a little help from social media, Tara managed to get in touch with Mr. Dan and they arranged a visit to his home. When the mom-daughter duo turned up, Mr. Dan was a new man, looking 10 years younger. The ladies spent three hours with him; coloring, snacking, and of course, chatting. On the way out Norah received a freshly picked rose whose thorns Mr. Dan had meticulously cut off — it now lies "dry as a bone" under Norah's pillow.
Tara shared how: "Norah asks about Mr. Dan every day. She worries about him. She wonders if he's lonely, or cold, or has cheese for his sandwiches. She wants him to be okay. She wants him to feel loved." And these feelings are reciprocated. Mr. Dan told Tara that after months of restless sleep "he has slept soundly every night since meeting my girl. 'Norah has healed me.'"
Tara has invited Mr. Dan to join the family for Thanksgiving and said he will be "absorbed" into this family of nine whether he likes it or not, and as Norah declared: "We're gonna love him all up." Cue a few tears.
The mom-of-seven described the lesson from this chance meeting most perfectly: "Sometimes talking to strangers can lead to beautiful new beginnings. Give it a try." And perhaps Norah got the best birthday present she could have hoped for, the joy and love of a very grateful "old person."
And next time you're out shopping, who knows what you could go home with if you keep your eyes and heart open.