A former journalist and press secretary with common sense guidelines to recognize when the truth is being elusive.
What can God do in your life with one Bible verse a day?
Subscribe to Aleteia's new service and bring Scripture into your morning:
Just one verse each day.
Click to bring God's word to your inbox
Just had another friend suckered by fake news. She promptly posted it at her Facebook page. I asked her to remove it; I don't know if she has. She's a good person; she probably will.
But she did ask me how I know fake news when I see it. Several years as a journalist and newspaper editor have sharpened my instincts, along with that time when I was a congressman's press secretary. In fact, I probably wrote some of it.
This is how I sniff them out. I apply several tests.
1) Is there a dateline (when it was published)? Does the "story" carry a byline (author or publisher)? If it is missing either of those it is probably a fake story.
True, some fake news stories carry both, which is why I will often google the author's name. Is this a reliable writer? Found one by Snidely Whiplash once; he's all over the internet. (Careful, I might be faking that.)
Honest news gatherers gather their news honestly, and follow the simple journalistic rules that every story answers: Who What When Where Why (not always in that order). Stories that cannot name all those elements are not stories.
2)  The story content itself carries identifiers. Can the story be verified by named sources, even if they are only secondary sources to unnamed sources? The latter is a somewhat problematic practice but in the hands of a good editor―who knows how to push reporters on sources―it is a legitimate practice. It protects sources who might otherwise suffer reprisal for speaking to the press.
Here an editor will take care to question the reporter. An aunt whose nephew works at the State Department is not a good source. Somebody at the State Department who gives his name is. Somebody who works at the State Department who cannot disclose his name may be all right. But a story based only on unnamed sources is not okay. We have to understand that the reporter is close to the source.
Does the story have a timeline, something beyond "once upon a time"? Fake news avoids pinning down the event, the When that belongs to accurate reporting. Without it, it becomes a "once upon a time" myth.
3) Plausibility. Another way to phrase this is common sense; use it when you read a story. Some politicians may be dumb but not all are stupid. Ask yourself some reasonable questions. Would he or she really say that, or do that? And if they did, is there video? If it sounds egregiously outrageous or even plausibly outrageous it is probably fake, an exaggeration, and a deliberate, deceitful misconstrual of facts.
4) I go looking to see who else has the story, other publishers. Where is this story appearing on the internet? Is it republished by reliable sites? I want to know where it is trending. What I usually find is an original link; the others are simply replicating the original "story." By then I've decided the original is made up "news."
5) Then I look at the contributing site. If it does not have a publisher's statement, a "contact us" page, an email address or street address, it is probably sharing fake news.
An "honest" fake news site will carry a disclaimer; it will say "fake." It will say something like: "You can't believe anything we say because we make it up, and we Photoshop all the photography so the images look like we want them to."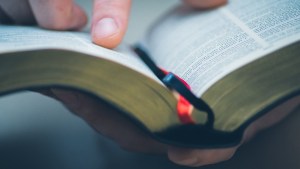 Read more:
Countering "fake news" with the Good News
Our Land of the Free is one of those sites and its disclaimer page is only a little less blatant. (Oh, did you know President Trump has dispatched teams to eliminate the danger of sharks on Houston highways in the flooding aftermath?) Our Land is simply silly, though not without a definite cheeky tongue-in-cheek attitude. I see it on Facebook, from time to time.
Fake news is a problem only when we fail to see it for what it is. The real fault, then, lies not with fake publishers, but with us. When we come across "news" that confirms our political sentiments and instincts, news that feeds our needs, we expect it to be just ever so true and we embrace it. More than anything else we buy the story because it ratifies what we believe about our political opponents. Our inclination is to accept its accuracy because it seems to say exactly what we feel. Feelings, you have heard, can outweigh facts. That is how we let ourselves get fooled.
Republicans and Democrats are equally ready to be bamboozled, and there are people eager to make it happen. Don't be one of them.