"Save God's Kids" has a simple, fun way to solve over-eating and lack of nutrition.
Need an idea for Lenten almsgiving?
Help us spread faith on the internet. Would you consider donating just $10, so we can continue creating free, uplifting content?
Make a Lenten donation here
When she was a junior in high school, Nancy Leville was walking to Yankee Stadium in the Bronx and couldn't find a piece of fruit to buy for a snack. She was inspired to do research on the lack of healthy food options kids in urban areas experience on a daily basis, which led her to found Save God's Kids.
"It all started with a term paper that I wrote on food deserts," Leville said. "I realized that it isn't just kids living in low income areas who suffer from malnutrition. Instead, six out of seven kids, regardless of family income, race, or zip code, are malnourished. But it's not the typical undernourishment that you think of. Instead, American kids are over eating and under nourished."
Read more:
This football camp encourages your son to pray and go to Mass
According to research published in the American Journal of Clinical Nutrition, 61 percent of food that American families buy is highly processed, with almost 1,000 calories of the average American's daily food intake coming solely from highly processed foods. In 2016, the CDC released a report that said 17 percent of American children and teens are obese, and 6 percent are morbidly obese.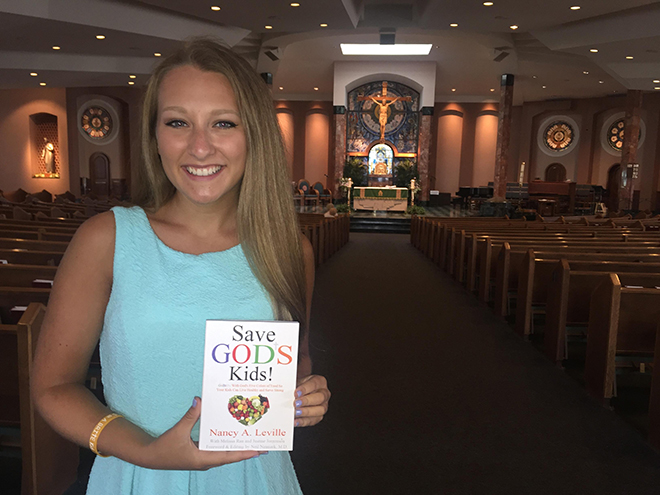 It doesn't help that the media targets today's kids with unhealthy food in commercials. "With the money that companies spend marketing to kids, parents have a hard time competing," Leville explained. "Marketing companies spend 10 billion dollars annually to market their product to children, and you don't see commercials for healthy fruits and vegetables."
To combat the lack of healthy resources for parents and their kids, Leville developed the GoBrite Nutrition Plan, which provides a simple way of remembering colorful, healthy foods. "Colorful foods are critical because they contain phytonutrients, which give food color and flavor," she explained. "But new research has discovered that certain phytonutrients have the ability to reverse health issues like allergies, hypertension and diabetes. So phytonutrients do so much more than just give food colors, and that's something I wanted to educate parents and their children on."
Read more:
Want a simple formula for healthy eating? Ask a nutritionist's kids!
Once the science and research was in place, Leville, her sister Claire — who was only in 8th grade at the time — and a team of nutrition experts went about developing the program, which they wanted to make fun and easy for parents and kids. The GoBrite Nutrition Plan consists of books for kids using games and coloring pages as teaching tools. The program also includes curriculum on juicing and smoothies, as well as provides nutrition plans for children diagnosed with heart disease, diabetes, osteoporosis, and high cholesterol.
After writing GoBrite for Life and developing the I'm a Brite Kid Activity Book with her sister Claire, Leville contacted the One World Literacy Foundation and the Magic Johnson Foundation. Together, they introduced the GoBrite program into the New York City Public School System in the fall of 2014. They went on to found the Global Children's Wellness foundation.
Built on the motto found in Matthew 8:10 — "Freely you have received; freely give" — the organization works to educate both children and parents about the benefits of eating healthily.
The organization has gained media attention because of the young age of the founders.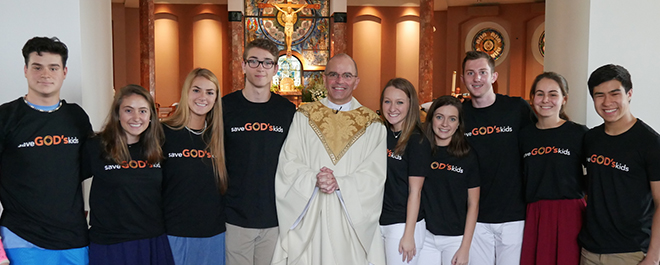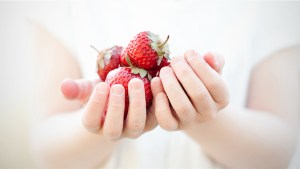 Read more:
Church and good nutrition: Why do they have to be at odds?
"People think it's cool that kids are getting behind something bigger than themselves," Leville says. "We think it's so important for young people to be passionate about big issues. Young adults are the future, and we live in a time where we can touch millions of people by the touch of share button or liking something on Facebook. Our youth driven aspect makes our organization unique."
But Nancy also knew that her mission needed the guidance of experts and advisers. She formed three boards of advisers made of high school students, college students and executive leadership, with a team of business professionals to help manage the day-to-day operations of Save God's Kids.
"We have people with all ages and passions," Leville says. "We knew our credibility as an organization could be questioned because of our founders' ages, so we developed a group of adult advisers who had experience in relevant fields." The adult advisers include Patrick Fay, who has over 35 years of financial management experience. Melissa Rau, the vice president of strategy, brings over 15 years of Christian business and youth-programming consultation experience to the organization.
Read more:
Remembering summer's forgotten children
Nancy and her team of co-founders and committees strive to raise awareness of the struggle of malnourished children in America. "We have a Bible study that talks to teens about the body is a temple of the Holy Spirit and you being healthy is a way of serving God," Leville said. "Another thing that we really focus on is helping parents raise their children in the image of God — an image that is healthy and whole." The organization is strategically aligned with Catholic churches and Christian media in order to reach more of God's kids.
Currently, Save God's Kids serves local areas of Tennessee thanks to a partnership with Belmont University. But after Justine Jorgensen, a co-founder and director of social media for Save God's Kids, presented the GoBrite activity book at Tulane University, she was offered both a scholarship and an opportunity to introduce Save God's Kids into the school systems of New Orleans.