In the face of this unprecedented catastrophe, volunteers and donations have been, perhaps, equally unprecedented.
For the last week, most of the country has been mesmerized and horrified by the devastation of Hurricane Harvey, a rolling, weeklong disaster that only now is truly beginning to dissipate. The numbers in play are indeed staggering.
Read more:
Beer-maker sends 155,000 cans of water to Hurricane Harvey victims
Between Friday night and Tuesday morning, nearly 50 inches of rain had fallen in some parts of Texas. (Some textbooks suggest that 60 inches of rainfall is a once-in-a-million-years happening.) By now, some experts believe Harvey will have dumped 25 trillion gallons of water across the state — enough to fill up the Great Salt Lake five times over. More than 3,400 water rescues have taken place in Houston alone, and about 30,000 people will need some sort of temporary shelter because of the devastation. A full 58 Texas counties have been declared disaster areas, and the cost of repair will likely climb into the billions.
You look at the images from Houston — the cars covered in water, the people stranded on rooftops, residents of a nursing home sitting in waters that came up to their chests — and the disaster can be almost numbing. Overwhelming.
But then I remember what the great Mr. (Fred) Rogers once said about how to talk to children about frightening disasters: "Look for the helpers. You will always find people who are helping."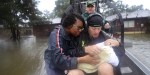 Read more:
Houston residents are in for a long recovery after Harvey


In the case of Harvey, some of those helpers are helping from very far away — even Hollywood. Or Nashville. Or New York City.
Consider country singer Chris Young, who owns a house in Houston that he believes was right in the hurricane's path. In a YouTube video, Young talked about the friends and family he has in the area as he pledged a $100,000 donation to the relief effort. He encouraged his fans to chip in, too. "In times like these, you turn to your friends to help those in need," he said, "and that's exactly what I'm doing."
Comedian Kevin Hart ponied up $50,000 to the relief effort, challenging celebrity friends like Dwayne "The Rock" Johnson, Jerry Seinfeld and Justin Timberlake to join in the push to help.
"I think we've participated in a lot of challenges on the internet, some meaningful, some meaningless, but we've all done them," Hart said in a video posted on Instagram. "I've been a person that's partaken in several of them. At this point, this is a serious matter. I think the people are in bad shape and they need help."
But they were far from the only celebrities to get involved. Dozens, perhaps hundreds, have signed five-, six- and even seven-figure checks to help. Oscar-winning actress Sandra Bullock gave a $1 million donation to the Red Cross, as reported by People magazine.
"I'm just grateful I can do it," said the actress, who owns a home in Texas. "We all have to do our part."
The Kardashian family — a clan perhaps not especially known for its generosity — also gave generously. The Kardashians have pledged a whopping $500,000 to the Red Cross and Salvation Army. "Houston, we are praying for you!" Kim Kardashian tweeted.
Other celebs helped in other ways. The country music group Lady Antebellum promised to donate proceeds from their merchandise sales at a concert in Dallas for relief efforts. The members of the rock group Coldplay actually wrote a song for the people of Houston and played it during their concert in Miami:
I know nothing's going to
Break the will of Houston
Oh, and we can't wait
To go down there again.
'Course, none of those celebrity acts of generosity can hold a candle to the heroism we've seen from ordinary people in Texas.
Social media newsfeeds are filled with stories of people venturing into Houston's flooded streets in kayaks and fishing boats, combing neighborhoods home by home to see if anyone might need help or rescue. Someone took a picture of Brian Roberson — a pastor — lying on the hood of a car and peering into a window, "checking for people inside cars," wrote the photographer on Reddit. Journalists — folks charged with simply documenting the disaster, have been documented themselves setting aside their cameras and microphones to help people in need.
"With nothing more than their own courage, good people ventured into the rushing gullies and culverts, risking their lives to save others in the unrelenting rain," wrote the editorial board of The Washington Post.
Look to the helpers, Mr. Rogers said. In the face of unprecedented catastrophe, the help has been, perhaps, equally unprecedented — whether tangible aid on the ground or through generous donations to keep the work going. And even those of us not impacted by the rains in Texas can help, too. Check with your parish or church or donate to the Red Cross or a similar charity.