This kingly animal has a prominent role in Christian symbolism.
The lion has always captivated the attention of the world. It is often referred to as the "king of the jungle," and its powerful strength makes it a force to be reckoned with.
St. Isidore of Seville explains a few of the attributes that make the lion a formidable animal.
"The lion is the king of all beasts, thus its name in Greek (leo) means 'king' in Latin… Their courage is seen in their front and tail; their endurance is in the head; and their strength is in the chest. If they are surrounded by hunters with spears, they look at the ground so as not to become frightened … They sleep with their eyes open. When lions walk, they erase their tracks with their tail so hunters cannot follow them."
For these reasons the lion is often used in art to represent strength, courage, majesty, and fortitude. It is a frequent feature of medieval coats of arms or national flags.
In Christian usage the lion can symbolize Jesus. This is due in part to the lion's reputation as the "king," as well as an ancient belief that lion cubs were born dead and after three days were brought to life by their father's roar. The book of Revelation also refers to Jesus as a lion: "Do not weep. The lion of the tribe of Judah, the root of David, has triumphed" (Revelation 5:5).
C.S. Lewis' Chronicles of Narnia is probably the most famous modern depiction of Jesus as a lion.
The lion also symbolizes the gospel writer St. Mark, because he describes John the Baptist as a voice crying in the desert, traditionally thought of as a lion's roar (Mark 1:3). There is also an ancient story of St. Mark encountering a lion.
"Once a lion and lioness appeared to John Mark and his father Arostalis while they were traveling in Jordan. The father was very scared and begged his son to escape, while he awaited his fate. John Mark assured his father that Jesus Christ would save them and began to pray. The two beasts fell dead and as a result of this miracle, the father believed in Christ."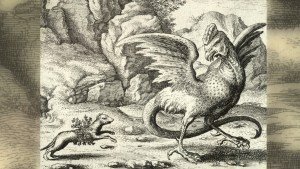 Read more:
The biblical and Christian roots of the basilisk