She's not slowing down one bit.
To call Iris Apfel a fashion icon seems to do her a disservice, as she herself says, "Fashion you can buy, but style you possess." And Iris Apfel has style in spades! With a knack for combining haute couture with flea market finds, Apfel has a flair for the dramatic and she pulls it off with aplomb. She doesn't shy away from color or dramatic accessories, seeming to break all of fashion's rules and trends, which expresses a lot about her strength of character, too. Yet more importantly she doesn't just radiate style in what she wears, but in what she says and does. And now, at the very tender age of 96, she is showing the world what it really means to grow old gracefully while retaining a joie de vivre.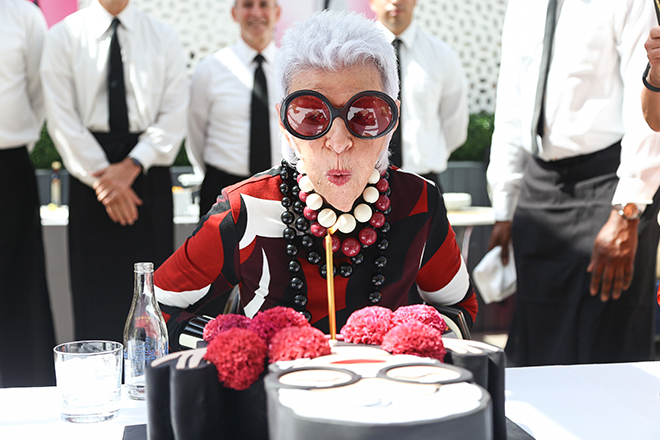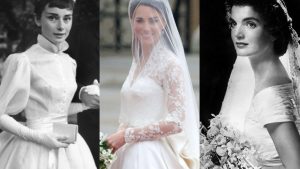 Read more:
The 5 best wedding gowns in style icon history
While many of us would understand if this nonagenarian style icon wanted to take things easy, recent birthday girl Apfel seems to be planning upcoming fashion shows zipping from one catwalk to the next saying, "I don't know how many I'll have time for because I have so many things going on." And there's no surprise she's run off her feet. This interior designer, businesswoman, actress, model (you may have seen her in the Kate Spade spring 2015 campaign or the DS 3 car commercial), and fashion guru last year launched Iris Meets INC, in partnership with INC International Concepts, owned by Macy's. This latest project is allowing Apfel to inject her very particular style into mainstream fashion, with some trademark chunky jewelry at accessible prices.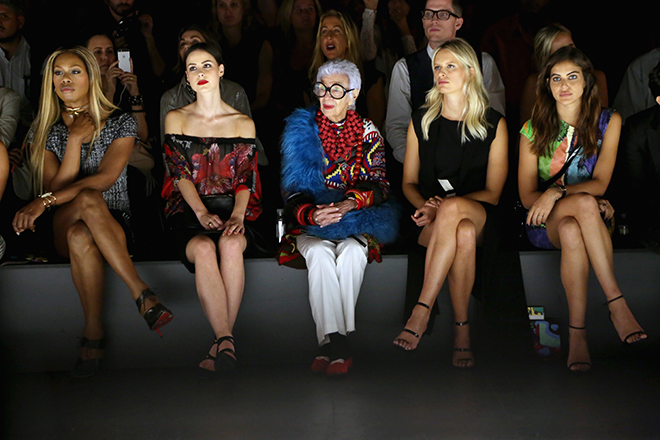 But to top it off, thanks to Apfel's distinct sense of style — her big round glasses, cropped hair, permanently bright lips, quirky patterns, and dramatic jewelry — she has been awarded the ultimate accolade. Along with her new range at Macy's, Apfel has been immortalized in the technosphere with her very own set of emojis and stickers. Available to download on iOS and android for free, these funky images are the image of Apfel and will certainly add a sense of style to any text messages, as sending a "thumbs up" now comes with elegant bangles on the wrist.
It is interesting to understand Apfel's decision to go down this technological road. She is quoted as saying in 
Fashionista
 that she is "the most un-technological person in the world." The answer to this curious marriage of style icon with smartphone icon can be explained in a 
video produced by Macy's, revealed in TechCrunch
: "I'm a little old for emojis and I didn't know what they were. But everybody seems to like them, so I want everybody to have a good time."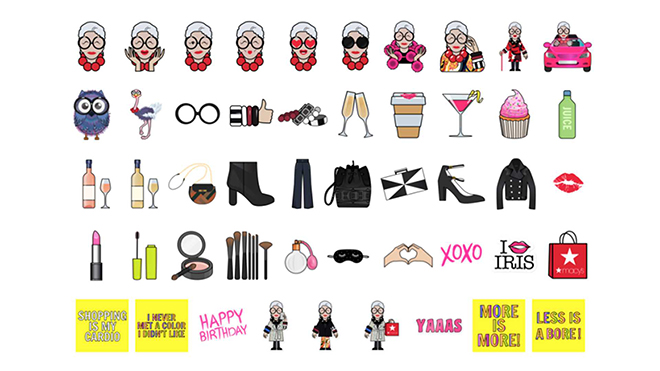 Yet accompanying this desire for people to have fun is also the desire for people to not rely on their technological world, to get up and do things for themselves. As Apfel explained to TechCrunch, she would love to see an app that "stop[s] young people from pressing so many buttons. Why are people so lazy? Someday, there's going to be technology invented to do everything for you. You won't even need to think anymore."
The very thought of an idle society seems to go against everything Apfel stands for, having built up a successful textile business, Old World Weavers, with her husband Carl, to whom she was married for 67 years until his death a year ago at the age of 100. This business, and her elegant eye, was responsible for redecorating the White House for nine different presidents, establishing her firmly as the First Lady of interior design. And her motivation to please and to keep busy has led her to where she is now: taking on new projects at 96!
With a life that has seen her through the Great Depression to witnessing Michael Phelps make Olympic history, this great dame of fashion is in a very good position to give her unguarded, and perhaps sometimes unwanted, opinion. But outspoken Apfel is perfectly placed to give her advice on style, believing women at any age should dress to please themselves. "I think if a woman has her own style and knows who she is, she doesn't have to dress for being 60 or 20 or 90," she said.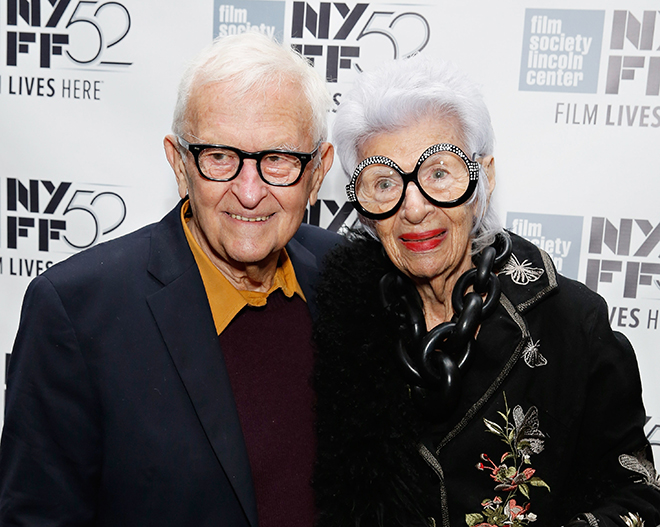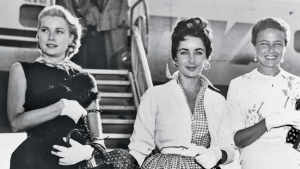 Read more:
The surprising beauty secrets of Hollywood's Golden Age actresses
However, Apfel is very quick to say that there are fashion faux pas women should not commit as they advance in age:
"Older women shouldn't show excess flesh. They should wear sleeves. They shouldn't wear mini skirts. They shouldn't wear very high heels. They shouldn't wear too much makeup. They shouldn't have long, flowing hair. Things like that which are just common sense." But yet again she follows this with, "I want you to be happy. I always say it's better to be happy than well dressed. Do your own thing. I don't sit and judge anybody. I don't like rules and regulations, but these are just some common sense things," as reported in Fashionista.
It seems that Mrs. Apfel's belief in common sense and that desire to be happy continues to guide her as she approaches a century. With decades of experience, she seems to be seizing the opportunity to take part in whatever life has to offer, whether it is keeping her finger on the technological pulse, or chastising fashion houses for constantly designing top end products for the young (who won't have the money to buy these expensive goods), resulting in a "whole segment of society that is neglected." Iris Apfel is still very much a business woman and style powerhouse, showing the world that age really is just a number. And we love her even more for saying: "I don't see anything so wrong with a wrinkle, it's kind of a badge of courage."