400 diverse volunteers, believers and non-believers alike, come together in Argentina to help the most disadvantaged neighborhoods.
Aleteia is happy to announce that Manos a la Obra  ("Hands to the Work") is the winner of the Lampstand Photo Contest for the month of August, and the recipient of our $515 prize.
"Hands to the Work" operates out of Rosario (Argentina) and focuses on the solidarity work of young university students, who try to round out their academic education by better understanding the realities of the most disadvantaged people.
The organization currently involves 400 young people from schools of Architecture, Engineering, Psychology, Education, Art, Advocacy, Medicine, etc. The participants form two groups that, during five very full days in January, literally put their "hands to the work" in struggling neighborhoods where aid is needed.
Before their work begins, these young people make at least one (and sometimes more) diagnostic visits to the area in order to become familiar with the area and assess the most pressing needs toward which they can apply their training. In 2018, they will again work together, from January24-28.
Although the project has its roots in a pastoral ministry of Rosario, the group participants are not all believing Christians. The social and spiritual components of the work are mixed, with some activities centered around spiritual formation which any or all may chose to attend.
Daily Mass is celebrated and prayer is offered at the end of the day, to offer their task to God. A priest-advisor, Father Pablo Lasarte, of the Archdiocese of Rosario is assisted by a lay counselor, two coordinators for each area and two in charge of the dissemination teams.
Alejo Audissio, a member of Manos a la Obra, who shot their award-winning Lampstand entry, explains that the group goes beyond material work: "For us this is more than going to help," he says. During the course of the week, each team prepares their work days with elaborate projects that are related to their fields of study. "Here we all leave something and several of us use our vacation times to participate."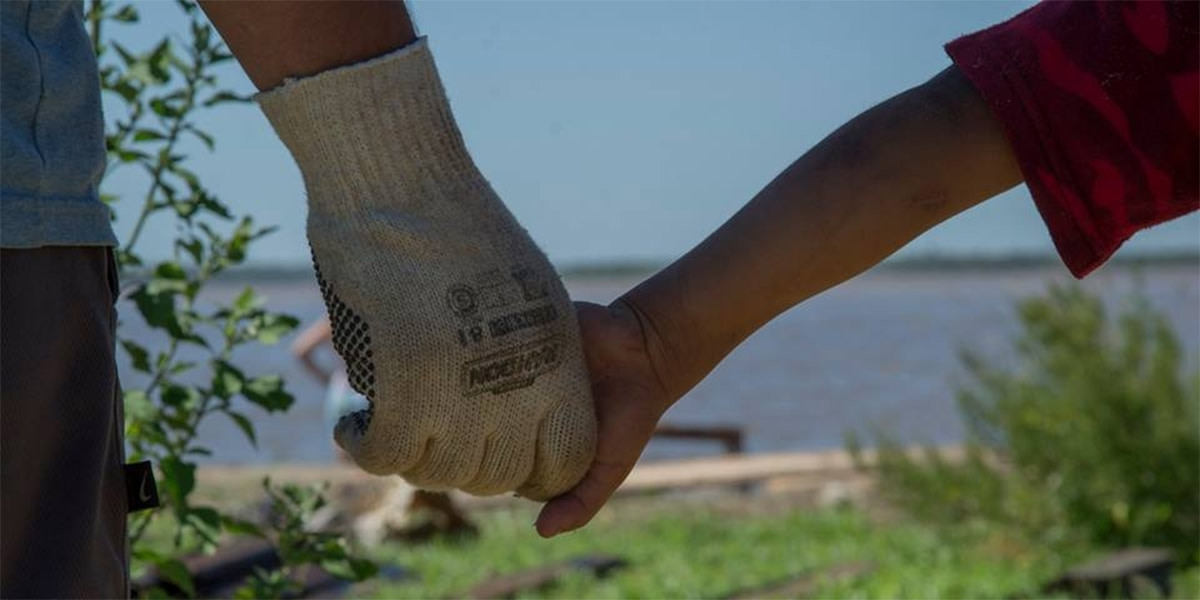 August's winning Lampstand photo is both revealing and suggestive: a hand of someone who works on the project takes that of a child, illustrating that beyond the material work, is a desire to see and serve real people. "It is a before and after in the lives of those involved," says Audissio.
Manos a la Obra is heavily dependent upon donations. Each project must be self-sustaining and this also becomes the responsibility of the volunteers, in order to help the projects materialize. This situation, says Audissio, "is also a pride for us because it demonstrates the effort and the desire that all put forward to participate."
To follow the work of Manos a la Obra, you can check out their social networks, and their video of the 2017 project.
Facebook:  https://www.facebook.com/manosalaobrarosario/
Instagram:  https://www.instagram.com/manosrosario/
Video:  
https://www.youtube.com/watch?v=FbYN06IiqEw
If you are unfamiliar with Aleteia's Lampstand Photo Contest, here is what you need to know:
The Lampstand contest references Matthew 5:15 ("No one lights a lamp and then puts it under a bushel basket; it is set on a lampstand, where it gives light to all in the house").
It is meant to shine a light on charities and philanthropic groups, and to reward and encourage them.
It is a global contest, so readers from all seven of Aleteia's language editions (in turn) are open to participate by submitting photos that best portray the spirit of their mission.
Entries are viewed and voted upon here.
Winners are chosen by readers, who "like" their preferred photo. The image with the most "likes" is the winner.
The Lampstand contest is running throughout 2017. In its remaining months – in order to increase every entrant's odds – we will be focusing on other languages' editions in turn. So, please congratulate Manos a la Obra  (and share and celebrate their wonderful work) and keep your eyes peeled for an invitation to participate, and the chance to win $515 for your favorite charity, or soup kitchen, parish outreach, St. Vincent de Paul group, etc!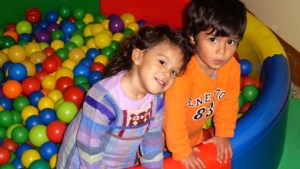 Read more:
Aleteia's Lampstand winner for July began as an "oasis" for young mothers