It's a brave new world, and your kids need to be guided through it carefully.
This summer, I let my daughter start using my phone to communicate with her friends. She hates this arrangement since all her friends have their own cell phones, but she's known for years that her own cell phone is out of the question. Ditto with her own social media accounts — she can borrow mine occasionally, but she has to show me everything she wants to post or send for approval first, and I screen every response before showing her.
Read more:
How to teach your kids self-control
This is how I discovered that she was the victim of some low-level cyber bullying from a childhood friend. As cyber bullying goes, it was fairly innocuous. It started with Snapchats among the supposedly grounded friend and other mutual acquaintances, accompanied by texts like "hanging with my BFFs," and escalated into repeated FaceTime calls orchestrated to seem like accidental dials during a group session of virtual slam-booking. After the first two calls I took possession of the phone, both to shield my daughter from further insults and to screen-shot the Snaps in case they warranted parental intervention.
I'm not some kind of helicopter mom. I just have an advantage that many of my parenting peers don't — I'm a millennial, so social media is kind of my stomping ground. I've experienced the ups and downs of this brave new virtual world first-hand, and I can tell you that the effects are all too real. But you don't have to take my word for it. Medium just featured an extensive guide to teens, social media, and smartphone addiction — which, by the way, is an actual thing.
Apps like Snapchat are actually designed to be addicting. It's called brain hacking, and developers are hired to study the brain and the neurological triggers that keep us coming back for more. According to a former Google product manager, Silicon Valley is engineering your phone, apps and social media to get you hooked. It's all about the Likes.
The article was written by Lisa Buyer, a social media expert who teaches social media management classes at the University of Florida. She explains that she considered herself more social media savvy than most parents and was confident in her ability to guide her daughter through this minefield — until her wake-up call came in the dual form of reading a book on the secret life of teen girls on social media and watching that play out in real time in her own teenage daughter's life.
It's a helpful guide, but a lot of the suggestions seem like an attempt to shove the genie back into the bottle. Once your teenager has their own phone and their own social media accounts, it's infinitely more challenging to establish limits — and infinitely easier for your teen to circumvent those limits.
Social media is a ubiquitous part of life that's unlikely to go away anytime soon. Like anything else, it's our job to teach our children how to navigate it. First and foremost, we must protect them from the dangers of social media — both the dangers posed by strangers online and the dangers inherent to the medium itself. But we also need to give them the tools they need to face those dangers.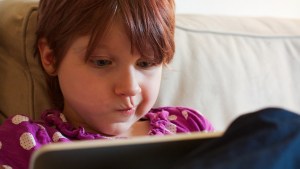 Read more:
10 Easy ways to wean a small child off a smartphone or tablet
A blanket ban on social media is unrealistic and potentially counterproductive. A kid who's been in social media blackout until high school or college will be totally unprepared for what awaits him, which could end up being as detrimental as unrestricted access at an early age.
Far better to protect our kids while also giving them the tools they need to protect themselves. This means not only familiarizing ourselves with social media apps and slang, but also introducing our kids to social media in a controlled, intentional way. This means allowing them to share your device and accounts, and setting strict limits on usage. Kids have notoriously poor impulse control, so parents have to set limits and stick to them — while also helping kids identify the addictive impulses that come with social media use. Teaching them to recognize and be wary of the urge to scroll mindlessly will go a long way toward protecting them from genuine smartphone addiction.
It might sound like an excessive amount of effort, but helping them learn to use social media responsibly can open up opportunities to teach lessons that have ramifications beyond the smartphone. The Snapchat snafu this summer gave my daughter and me an opportunity to have a long conversation on how to respond to cruelty and insults, and showed her that the things we say, even over the internet, have real, visceral effects on people. It's a lesson that I hope she carries with her years from now, when I'm not there to screen her messages or approve her responses, and she has to face the world — real and virtual — on her own.