12 inspiring Pinterest bridal hoops to accompany you down the aisle.
After the obligatory crown of flowers, the must-have for any rustic wedding is this latest accessory: the flower hoop. The elegant floral ring, decorated with your favorite blooms, can be carried in the hand or over the crook of the arm. With its touch of originality, this less imposing but often surprising hoop is proving a perfect alternative to the classic bridal bouquet. For any bride-to-be: take the time to be inspired by these 12 Pinterest pretty floral hoops for your own special day.
What is a flower hoop?
Fashioned from a wooden embroidery hoop, or a ring made out of metal or wood that acts as the base, the hoop can be personalized with the use of a huge selection of foliage, ribbons, lace, and flowers – fresh, dried, or synthetic – attached to the hoop base. For an even more natural and authentic look, swap out the man-made ring for one created using woven branches, vine tendrils, or cane.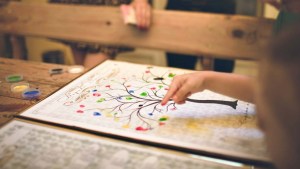 Read more:
12 Unique ideas for creating a memorable wedding guest book (PHOTOS)
What are the right flowers to choose?
Like the more classic bridal bouquet, the flower hoop should match or enhance the outfits of the main bridal party. You can use eucalyptus and olive branches, succulents, roses, anemones, and a myriad of other colorful flowers, big and small; the flower hoop provides the perfect opportunity for a bride to let her imagination run wild.
How can I create a flower hoop?
A wedding flower hoop can be made at a florist, especially if the choice of hoop you're after is more voluminous and complex, or incorporates more fragile flowers that might be a little tricky to assemble. Nevertheless, it is equally possible to find a number of DIY versions online, with tutorials, to create your own perfect homemade floral hoop.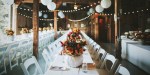 Read more:
13 beautiful ideas for your rustic wedding reception


Who can carry a flower hoop?
It's not exclusively reserved for the beautiful hand of the bride; this alternative flower arrangement is also suitable for the rest of the bridal party. These easy-to-carry hoops can be made in different sizes to accommodate the smallest of hands. Just remember to choose flowers that match the colors of the wedding celebration. Both original and distinguished, the floral hoop will add a real touch of whimsy to the day.
Whether you use the flower hoop for the bridal bouquet, a floral dream catcher, or as a striking piece of floral art, this circular decoration is symbolic of the everlasting love that is marriage, and is sure to bring some bohemian flair to your celebrations.
This article was originally published in the French edition of Aleteia, and has been translated and/or adapted here for English speaking readers.