They believed they had to work to support themselves and the poor.
Christian monks in the medieval world were able to build massive monasteries and amazing churches. While they lived simply and led a life dedicated to prayer, they were always able to serve the community and give generously to the poor.
How was that possible? Aren't monks supposed to beg for their money?
St. Anthony of the Desert was a pioneer of monasticism that included work. While it is true that he sold everything he had to give to the poor before dedicating his life to God, he continued to labor so as to support himself.
St. Athanasius writes in his Life of St. Anthony, "He worked, however, with his hands, having heard, 'he who is idle let him not eat' [2 Thessalonians 3:10], and part he spent on bread and part he gave to the needy."
Later on St. Athanasius writes, "A few days after, as he was working (for he was careful to work hard), some one stood at the door and pulled the plait which he was working, for he used to weave baskets, which he gave to those who came in return for what they brought him."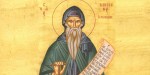 Read more:
Who were the Desert Fathers and why do they matter?


Those who followed the example of St. Anthony formed monasteries where work was an essential part of life. St. Benedict was one of them and is famous for the slogan, ora et labora (prayer and work). He wrote in his Rule, "And let them not be distressed if poverty or the needs of the place should require that they busy themselves about gathering in the crops with their own hands; for then are they truly monks, when they live by the work of their own hands, as did our fathers and the apostles."
Throughout the centuries there were various religious figures who begged for food, St. Francis of Assisi being the most widely known mendicant friar. However, his rule of life was just one way of living out a religious vocation. The Church saw God's will in both types of religious life.
Even to this day there are countless monasteries throughout the world who support themselves and the poor through the work of their own hands. Monks are known for producing countless products that serve the community, including their most famous contribution: beer!
Read more:
A Beer Crafted Carefully, Prayerfully and with a Holy Rule