But God's grace was clearly at work ... as well as the power of social media.
What can God do in your life with one Bible verse a day?
Subscribe to Aleteia's new service and bring Scripture into your morning:
Just one verse each day.
Click to bring God's word to your inbox
Amidst the devastation of a natural disaster like Hurricane Harvey, parents become desperate to keep their children safe, even if it means being separated from them. For Dajauh Zhane Henix, this desperation had her separated from her little girl, eight-month-old Paige, for several terrifying hours, unsure of her baby's location.
According to Today, Dajuah was wading through neck-deep water alongside family in Houston, while protectively holding Paige up above her head in an attempt to keep her dry. Around the same time, Corporal Reed Clark, a supervisor of community public relations, was making rescue rounds on a jet ski when he spotted Dajuah's group. In an attempt to flag him down, they began exclaiming, "Baby! Baby!" and pointing to Paige, who was wrapped up in a blanket.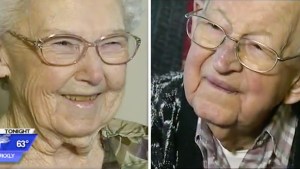 Read more:
Here's a Harvey and Irma you're going to love
Cpl. Clark made his way over to them just as the water began rising momentarily above Dajuah's head. Scooping up Paige, he tried quickly to explain to the young mother that he was taking the baby to a nearby rescue area where she would be safe.
But by the time Dajuah and her family made their way to the area Cpl. Clark had specified, they couldn't figure out exactly where to find Paige amidst the crowd. Recalling the terrifying feeling of not knowing her baby's whereabouts, Dajuah told CTV News, "We were all just going crazy trying to figure out where she was."
When Cpl. Clark was notified by his partners that Dajuah still had not shown up to where he'd brought Paige, he and his superior, Christopher Diaz, decided to turn to Facebook.
They posted a picture of Clark cradling Paige along with a plea for assistance, which read, "We are trying to find the mother to this baby." Miraculously, it was shared by enough people to eventually reunite Paige with Dajuah, proving the often unexpected ways in which grace flows in order to benefit those in need.
To express her gratitude and joy at finding her little girl, Dajuah wrote in a post, "She is found y'all. Thank you God and thanks for the prayers!!!!"
Although the affliction of Harvey has been unimaginably disastrous for those affected like Dajuah and her family, the young mother's experience brings to light the beautiful hopefulness and relief that cannot be overshadowed by a situation's darkness. The hope and relief are so powerful, in fact, that they reach beyond those directly affected, inspiring beautiful human sentiments even in strangers. As one commenter on Dajuah's post revealed, "I cried when I saw you had found your baby!" Let's never allow devastation to blind us to the grace and joy that will always shine through it.