How to decode those letters and monograms we encounter in Christian art.
What can God do in your life with one Bible verse a day?
Subscribe to Aleteia's new service and bring Scripture into your morning:
Just one verse each day.
Click to bring God's word to your inbox
When looking at Christian art or walking through a Catholic church, you might run into several different combinations of letters. To the untrained eye, some decoding is necessary.
Besides the various different monograms of Jesus' name (IHS) or Greek letters like the Alpha and Omega, there are other abbreviations you should know.
Here are five of the most common:
BVM – Often seen on altars dedicated to Our Lady, BVM is a simple abbreviation of "Blessed Virgin Mary" in English or in Latin "Beatam Mariam Virginem." The letters are often superimposed on each other or intertwined in a decorative fashion.
IHM – Another Marian abbreviation, it stands for "Immaculate Heart of Mary" in English.
S or SS – Sometimes an image or altar in a church will have a monogram, indicating the name of a saint. "SJ" is one of the most common abbreviations and typically stands for St. Joseph. Additionally, there are times when two saints are referred to, and two S's are put in front of their initials. "SSPP" is a common abbreviation for Sts. Peter and Paul.
AMDG – Frequently found in Jesuit churches, "AMDG" refers to a Latin phrase, Ad maiorem Dei gloriam ("For the greater glory of God"). A favorite phrase of St. Ignatius, AMDG is the motto of the Jesuit order and a foundational concept of Jesuit spirituality.
ND – This abbreviation is less common, but is frequently used in churches with French influence. It stands for Notre Dame, which in French means "Our Lady" and refers to the Blessed Virgin Mary.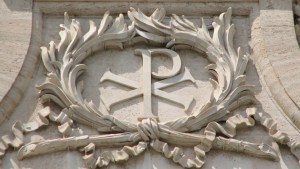 Read more:
The meaning (and the legendary story) of an early Christian symbol