And it's about time!
This week a big merci goes out to two French fashion heavyweights for banning size zero models and the use of girls under 16 modeling in fashion shows that are meant to represent adults.
The two fashion groups LVMH and Kering, which own Yves Saint Laurent, Gucci, Louis Vuitton, Céline, and Kenzo among many other high end fashion labels, are responding to the growing problem of how women, young and old, perceive their bodies. By creating a charter to "ensure the well-being of models," they are putting the health of their mannequins, and therefore their easily influenced young fans, above their profit margin.
Read more:
Where are all the middle-aged models?
We can only hope that the groups, who unveiled their new code of practice on the eve of New York Fashion Week, can become trend-setters for all the right reasons. At a time when the fashion industry is under heavy scrutiny for apparently encouraging anorexia and eating disorders, these well-known fashion houses are actually listening. By taking such measures, François-Henri Pinault, who is Kering's CEO as well as husband to actress Selma Hayek, is hoping others in the fashion industry will follow their lead.
The move comes at a time when the French government has been addressing these "unrealistic body images." Just in the last year, a new law was passed banning the use of unhealthily thin models. If a woman wants to work in the industry she must provide a doctor's certificate stipulating that she has a healthy BMI. And it doesn't stop there: magazines in France are also legally obliged to declare if any published photos of a model have been either retouched or photoshopped; failure to do so could result in a hefty $42,000 fine.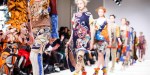 Read more:
Here's what Peru is teaching the fashion industry


Parents everywhere will be relieved that their daughters will no longer be exposed to too-often emaciated young women who look in dire need of a burger, or five, staring out sultrily — and unhappily — from their favorite magazine pages. Of course, some women are born naturally thin, but it shouldn't be something impressionable young girls (and older women) aspire to in order to feel good about themselves. What should be at the forefront of these magazines are models who look healthy and happy, with no pressure to be something, or someone, they are not.
So now let's hope followers of fashion sit up and copy the example of these two influential French fashion houses. As the grande dame of fashion, Coco Chanel, once said: "A girl should be two things: classy and fabulous." Nowhere did she mention size.