It may not be a matter of life or death, but it's not a great idea either.
Plastic bottles of water are ubiquitous nowadays, and we often focus on the fact that water is, generally speaking, the healthiest thing for us to drink. However, we should also think about the container we use to store and consume it. Not all materials are equally safe and environmentally friendly. Here are five reasons why we should steer clear of drinking water from plastic bottles:
1. Chemical contamination
When a plastic bottle experiences high temperatures (for example, when you leave it in the car on a hot day) the superficial layers of plastic may release a chemical called bisphenol A (BPA), which can contaminate the water you are drinking. What's the big problem with this? Although you are only ingesting a small amount of BPA, this chemical can imitate estrogen (our body can't tell the difference) and it can affect your endocrine system or, possibly, increase the risk of endometriosis and breast cancer. There isn't a complete scientific consensus regarding the danger level, buy why risk it, when there are safer alternatives?
Read more:
Beer-maker sends 155,000 cans of water to Hurricane Harvey victims
2. Difficulty getting pregnant
There are not enough studies yet to prove this with complete certainty, but some studies have indicated that women with high levels of BPA in their blood or urine have greater difficulty getting pregnant, due to the resulting hormonal imbalance.
3. Your budget
Not every country or city has potable tap water; however, even in those cases, it is much more affordable, and healthier, to buy a filter, or a large glass jug of water (which you can reuse without any problem), and fill up a personal-sized aluminum thermos each day (which also conserves the water's temperature better), instead of buying plastic bottles of water every week. It's surprising how much you can spend on bottled water, especially if you're buying a name brand.


Read more:
Breaking this one little habit would have a huge effect on the environment


4. Bacteria
Unlike aluminum or glass bottles, plastic ones form cracks much more easily (even if you just squeeze them hard), and bacteria can grow in those cracks. The more we use and re-use a plastic bottle, the greater the risk of contamination and bacterial proliferation. Most of these microorganisms aren't harmful, but there is a small percentage of them that can make you sick. The risk of getting ill from bacteria in reused plastic water bottles — especially if you don't wash them properly — can actually be higher than the risk of chemical contamination. (Reading this article from the Huffington Post could be enough to keep you from ever reusing a plastic bottle again… )
5. Mother Earth
Although it is true that plastic bottles can be recycled, statistics show that very few people actually handle recyclable trash properly, so most bottles end up with the rest of the garbage. If this tendency continues, experts predict that there will be 26 million pounds of plastic garbage by the year 2050; we have to remember that plastic isn't biodegradable, so these bottles could take centuries to disintegrate.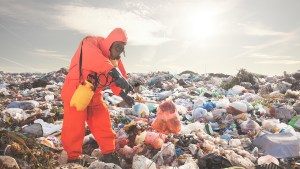 Read more:
Plastic consumption is killing us … here's how to cut back
Buying water in plastic bottles can be a necessary solution if we're in a pinch, but with a bit of foresight, we can usually find alternatives that will be better for our health, our wallet, and the future of our planet.
This article was originally published in the Spanish edition of Aleteia, and has been translated and/or adapted here for English-speaking readers.