These 3 healthy breakfast ideas will give you more energy to face your day.
What can God do in your life with one Bible verse a day?
Subscribe to Aleteia's new service and bring Scripture into your morning:
Just one verse each day.
Click to bring God's word to your inbox
I live for breakfast. It's my favorite meal of the day. But I didn't always used to feel that way. Like so many of you, when given the choice between sleep and breakfast, I preferred to sleep. I set aside minimal time for the first meal of the day (if any at all) to provide what I knew was a metabolic booster for my system.
But at some point after college I finally realized that my body wasn't burning fat properly, and it was likely because my coffee-for-breakfast routine wasn't cutting it! Once I started studying nutrition, I realized what I had been depriving myself of the best meal of the day. Because, believe it or not, breakfast is not a time to restrict calories, it's actually the best time of day to indulge your hunger.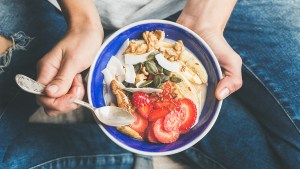 Read more:
How to make breakfast for kids that's not dessert-in-disguise
So you can imagine how it frustrates me when I hear this phrase over and over from my clients: "I'm not a breakfast person." Knowing how valuable breakfast is to your brain and blood sugar, I honestly just want to shake the people who say this! If you're one of these people (and there's a good chance you are considering how many no-breakfast-people are out there), hopefully these five little breakfast factoids can change your mind!
1. It really does break the fast. While you sleep, your body is in a fasting state and your blood sugar is stable, but once you wake up, it's important to let your blood sugar know you're awake too. Ideally, you're eating within an hour of waking up! The only one exception to the rule: if you exercise right away in the mornings, you can wait until after your workout to eat, if you prefer.
2. It lowers your chances of obesity. Providing your body with fuel consistently throughout the day prevents end of day binge-eating that leads to fat storage. Avoiding that end of day accumulation will also lower your chances for heart disease.
3. It revs your system. Not only does a morning meal prevent fat storage, but it will also allow your system to burn fat at a faster rate too! It really does speed your metabolism by eating first thing in the morning.
4. It gives you energy. Eating breakfast fuels your muscles, cells, but even more it helps with mental clarity. Once you experience the feeling of a well-fed brain in the morning, you'll truly want to keep up your breakfast routine.
5. It's fun. Seriously. I have yet to meet someone who doesn't love a great breakfast once it's in front of them. And even if you don't feel like a whiz in the kitchen, with time, you'll love preparing the breakfasts too. It's fun to get creative and quick, but play with traditional breakfast meals and make them healthy. To help you get on the right breakfast path, I'm giving you my favorite three recipes to make in the mornings.
Pistachio pear smoothie
Serves: 1
Ingredients:
1 cored pear
1 large handful baby spinach
2/3 cup 2% cottage cheese
1 tablespoon flax meal
¼ cup shelled unsalted pistachios
Dash of cardamom
6 ounce unsweetened almond or coconut milk
Ice, if desired
Method:
Put all ingredients into a blender or food processor, and blend until drinkable.
Turkey apple sweet potato scramble
Serves: 2
Ingredients:
1 Tablespoon virgin coconut oil
1 medium sweet potato, diced
½ cup diced onion
1 medium apple, cored & chopped
8 ounce diced nitrate-free turkey breast, cut into 1 inch pieces
Cinnamon, a dash
garlic & onion powder, to taste
salt + pepper, to taste
4 eggs + 2 Tablespoons water, lightly beaten
Method:
Heat a skillet over medium heat. Melt the coconut oil and add the sweet potato and onion. Sauté for about 5 minutes till the onion is translucent and sweet potato has started to soften.
Add the apple and turkey breast, lightly sprinkle with cinnamon, garlic and onion powder, salt, and pepper. Continue to sauté till potato & apple are tender. Pour the egg mixture over the ingredients in the pan. Cook for a few minutes till the eggs begin to firm up, then scramble and cook till the eggs are done. Serve immediately.
Banana berry almond jar
Serves: 1
Ingredients:
½ cup rolled oats
½ cup unsweetened coconut milk
1 Tablespoon chia seeds
¼ cup blueberries
¼ banana, sliced
1 Tablespoon unsweetened coconut
1 Tablespoon slivered almonds
1 Tablespoon almond butter
Method:
Add ½ cup rolled oats + ½ cup unsweetened coconut milk to a pint sized mason jar. Then stir in all other ingredients. Seal the jar and refrigerate overnight. Eat cool or warm briefly, whichever you prefer
All that said, I don't think breakfast is the most important meal of the day … because they're all equally as important! What I do believe is that taking the time for a good, well rounded breakfast energizes your body and mind, setting the tone for your whole day. So become a "breakfast person." It's absolutely worth your time.