It's time to trade in standard disciplinary tactics for something much more effective, and loving.
What can God do in your life with one Bible verse a day?
Subscribe to Aleteia's new service and bring Scripture into your morning:
Just one verse each day.
Click to bring God's word to your inbox
It's never easy to discover that you've been doing something incorrectly — especially when it involves parenting. There is a pervasive idea that all things related to children must somehow be innate — starting with childbirth and breastfeeding and continuing on to discipline and general child-rearing. But this isn't true, at least not for me.
The shock started when I developed a life-threatening condition while pregnant and continually shrugged off my physical illness until it was nearly too late. Breast-feeding was a struggle (and ultimately unsuccessful with one of my two children). When it came time to helping my children sleep for longer periods at night I was a mess — never sure if I was doing the right thing, terrified to scar my children emotionally and also that I was ruining their brains by not allowing them to get enough hours of uninterrupted slumber.
Read more:
Why I've Embraced "Attunement Parenting" as the Secret to Raising Healthy, Happy Kids
I expected for all of this to flow naturally out of somewhere — my gut, perhaps? — but it didn't. Parenting is one of the more complicated endeavors many of us will ever face.
So it should come as no surprise that we might get it wrong more than occasionally. Recently I was forced to investigate how I'm disciplining my oldest child. Specifically, I wondered at the cycle that my traditional methods had started to perpetuate in our house. When my daughter has an emotional outburst to something she doesn't like, I focus on her reactions and discipline those — usually by timeouts or by losing privileges such as screen time. More often than not, this leads to more emotional outbursts and thus more consequences, starting a vicious cycle. Taking a small step back from the conflict, I could easily identify that this wasn't what I wanted.
When I asked myself what my end goal was, I found the answer to be surprisingly simple: I wanted to be connected to my child, and I wanted my child to be connected to me.
With this thought in mind, I read Karen Purvis' classic book The Connected Child. Although it was originally written for families who welcome children from other countries and cultures or troubled backgrounds via adoption, and for parents of children with behavioral or emotional needs, Purvis' book can easily apply to all children. She starts by stating what by now I already knew: punishing children who are acting out creates unhealthy cycles. Instead, she suggests approaches that build bridges between the child and the safe caregivers in their lives. Instead of viewing your child as someone to control or viewing their responses as a reflection of your worth and parenting skills, Purvis suggests a radical shift in view. It's not you against your child, but rather you and your child against the world.
And the world can be awfully hard for children, especially those who are at risk, or have had trauma, or have conditions that lead them to be overly-influenced by stimuli. My daughter has been diagnosed with sensory processing disorder, and this has been helpful for me to keep in mind when she has meltdowns or reacts with big emotions to scenarios that I find innocuous. Her sensitivity to touch and sound can build up until she is unable to regulate herself. Knowing this, I can fuel my interactions with compassion, instead of frustration, and strengthen my bond with my child instead of alienating her. Again, going back to end goals is important here. Is it more important to me to have a child who expresses no negative emotions, or is it important to me to have a child who feels safe expressing her feelings to me and has the ability to regulate her emotions in an appropriate manner?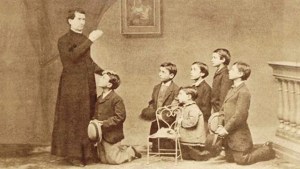 Read more:
7 Saintly tips on how to discipline a child, from Don Bosco
These kinds of questions surrounding the goal of discipline have important ramifications for areas outside of the home. Education in general has started to look at the ways children, especially those who are at-risk, are disciplined. As this piece in Mother Jones stated, in 2012 nearly one in seven K-12 children were expelled from school. How does this method of punishment work for the kids who are in need of the most attention? As you would expect, not very well — sacrificing "long-term goals (student behavior improving for good) for short-term gain (momentary peace in the classroom)." This focus on the long-term is extremely important for both educators and parents. Do we really want to control our children's behavior, or do we want them to be able to control themselves?
That second goal admittedly takes a lot of work. Connecting, instead of punishing, requires more from the caregiver — including compassion, consistency, and the ability to not take misbehavior personally. As psychologist Ross Green, author of The Explosive Child, says in the aforementioned Mother Jones article, punishing a child for her emotional outburst never gets to the root of the problem — and doesn't take into account the fact that many children simply need the space to help their brains get to the point where they can learn to identify and solve the problems they encounter. Trauma, poverty, behavioral needs — all of these are beyond the control of children and need to addressed in terms of connection instead of problems to be disciplined.
Sometimes our intuitions need to be helped along. I, like many, feel a deep need to be seen as a good parent with a child who behaves respectfully at all times. When I examine this, however, it becomes clear that this is about me and my own insecurities and doesn't actually take into account the needs of my child.
By focusing on connection, instead of disciplining emotions I don't agree with, I can already see my relationship blossoming with my daughter. I can now see that connecting with our children does speak to a deep desire in us to be respectful to the people we love — including our children. As more authors and educators and psychologists work hard to change the way we view discipline with children, I look forward to a generation where every child is given the chance to thrive, to feel safe, and to learn to be respectful and empathetic individuals.