Our bodies didn't evolve to process food at night or go without sleep.
Two weeks ago, we hastily packed up and evacuated from Hurricane Irma. Our family all lives in Texas, and since the size and intensity of the hurricane indicated widespread damage, we decided to make the long trek to DFW in case we needed shelter for an extended period.
Read more:
Trouble sleeping? Try staying awake!
Let me tell you, the trek is long. 1,359 miles long, to be exact — which we decided to drive straight through, both on the way there and on the way back.
I thought I had handled the lost sleep and insane schedule changes okay until I woke up this morning — three days after we got home — feeling wrecked, physically and mentally. That's no surprise, according to Dr. Andrew Herring, a Harvard-trained ER physician who recently told Popular Science that a single night shift has "cognitive effects going out for a week."
In 2006, University of Virginia researchers turned on the lights in the cages of lab mice six hours earlier than normal once a week for eight weeks, preventing them from resetting their clocks. In terms of light-cue changes, it was as if they'd flown from New York to Paris once a week. The result: Younger rodents got sick and displayed mentally unstable behavior; 53 percent of the older mice just dropped dead. "I really worry we are killing ourselves," says ­Dr. Herring.
Dr. Herring is part of a growing field of physicians expressing concern over the systemic effects of sleep deprivation linked to artificial disruptions in human beings' circadian rhythms.
Circadian rhythms are often thought of as internal clocks that tell us when to wake up and when to sleep — but that's a dangerously simplistic understanding of them. They orchestrate peaks and valleys for everything from fat synthesis and cognition to hair growth. And contrary to popular understanding, they don't just respond to light patterns. They also sync our bodily functions based on food intake (what and when), social interaction, and exercise routines.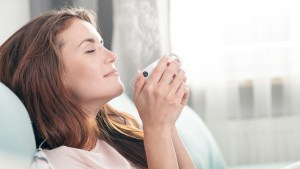 Read more:
Which of these morning routines works best for you?