Acronyms, emoticons, and now GIFs may be faster to get a point across, but are we losing something important in the process?
What can God do in your life with one Bible verse a day?
Subscribe to Aleteia's new service and bring Scripture into your morning:
Just one verse each day.
Click to bring God's word to your inbox
My mother, at the tender age of 72, would maintain she is "au fait" with texting. She has mastered all the texting shortcuts and added in a few of her own for good measure.
Yet when I receive messages from her I feel I need to go to Quantico to learn how to decipher them. I can't help it, perhaps it's the linguist in me, or maybe I'm being obtuse, but when a message flashes up from my mom or my kids I always reply in full sentences. I use the most erudite words I know. When I text my kids this way, deep down I know it's just my way of trying to educate them — I cannot bear the idea of my children not being able to form a proper sentence, or hold an intelligent conversation.
As for my mother, a retired librarian, I think that I simply cannot bring myself to communicate with her in pseudo-teen style. It feels too much like she is morphing into my 17 year-old daughter (and one of those is enough)! From a practical point of view, I also don't want to encourage her — the more adept at texting she feels, the more her texts begin to resemble a jumbled vowelless alphabet.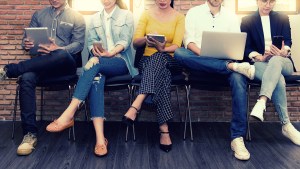 Read more:
A cheat sheet for online etiquette
One recent message she sent me ended with DWBTW. I pondered for a while and eventually I conceded and gave her a call. Her intended shortcut led to a one-hour conversation about the size of the turkey we needed for a family gathering, and I forgot to ask her what her text meant. So I called back to discover that all she'd wanted to say was, "don't worry, by the way."
The problem is I do worry — not about the fact that my mom is creating a texting glossary that only she can understand, but about how it's changing the way we interact with one another. Especially when my kids are concerned. Not only have kids developed their own coded language — which, as a mother, I fear may land them in real danger — but today's youth also integrates text-talk seamlessly into their everyday spoken language. I've heard high-pitched OMGs being used in response to a fabulous pair of shoes or a gleeful surprise. I've heard a deeper, drawn-out O-M-G as their upset reaction to a terrible scenario. And it scares me a little. Sometimes I envision the English lessons of the future and I start to panic: gone are adjectives and nouns, replaced by lessons in intonation and dramatic delivery of favored acronyms.
My worries don't just lie with children, though. Texting abbreviations are becoming more prevalent in our professional correspondence, with people sending half-written emails not only to colleagues but to clients. As a client the message I would receive is that my correspondent does not feel I'm worth the effort to write out a word in full. To me, it smacks of laziness.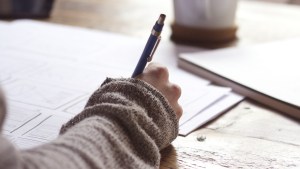 Read more:
Is there a new etiquette about writing thank-you notes?
The art of any language system is knowing when to use it correctly. In written form our words become more concrete, and are more likely to trigger a strong reaction from our correspondents both professional and personal. I'd argue, therefore, that our words need to be thoughtful and reflect the image we wish to portray and the respect we are giving, whether it be to a friend a colleague or a boss.
Still, I can appreciate that I'm a bit of a die-hard, and, no, I'm not expecting my kids to send texts to friends à la Shakespeare — although there's a thought … But words are important. And I don't want any of us to forget that fact. We need to pause our thumbs as they fly across our little phone screens, and think about how we're making the reader feel. If you're making arrangements with friends in a rush, as long as you're understood, then, sure, why not throw in a few acronyms? But if you want to negotiate with clients, dropping the BTWs from your emails might be a good idea if you want to be taken more seriously.
As for my mother, I know her cryptic texts are just her latest craze, after sudokus, word wheels and crosswords. It's also her attempt to stay connected in a modern world, which I applaud. And the whole family knows that she knows that LOL does not mean "loads of love," but she insists on signing off with it anyway.