It's really quite simple, but not so easy ...
What can God do in your life with one Bible verse a day?
Subscribe to Aleteia's new service and bring Scripture into your morning:
Just one verse each day.
Click to bring God's word to your inbox
Confession time: I am not a problem-solver.
I want to be one. I mean, I like the idea of being a problem-solver a lot, and I've managed to become more of a problem-solver as an adult than I ever was growing up. But when you get right down to it, I tend to outsource solutions to the sticky problems (like, ahem, math ones).
So I had this creeping feeling of guilt when I read this post at Scary Mommy, about raising kids who are problem-solvers.
Any time we have any sort of challenge, we say, "We are problem-solvers." … I watch my daughters stick with something, even through discomfort. I try not to say anything about how smart they are (although I am often thinking it). Instead, I say, "I noticed you stuck with that and worked on it until you solved your problem. I felt proud of you. I love problem-solvers."
I have literally never said this phrase in my entire life. Which is not to say that I encourage giving up — I definitely don't. I'm big on grit, determination, and hard work. "Figure it out, Alexander" is a common refrain at our house (thanks, Hamilton!). And I practice what I preach — I keep at things when they get hard, so my kids are learning by example and not just admonition.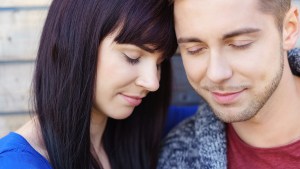 Read more:
4 Ways to tell if you (and your partner) are emotionally intelligent
But working hard and "figuring it out" is different than saying, "we are problem-solvers." There's the "we," first of all. I don't usually make blanket family statements like "we are" — not from any aversion, just because it doesn't come naturally. But I can see how the inclusive "we" is a powerful tool because it holds both kids and parents to the statement.
There's also a big difference between muscling your way through a problem and finding a solution. Sometimes willpower alone won't cut it, but creativity and self-confidence will. The best of both worlds, of course, would be to inculcate both problem-solving and grit in my kids, so they learn that they can find solutions for any problem as long as they stick with it.
But if I'm going to start saying "we are problem-solvers," I have to mean it — and actually become one. Which leaves me facing, once again, the biggest and most fundamental challenge of parenting: becoming the kind of person I want my kids to grow up to be.
Read more:
Father's reaction to son's spilled Slushie is more than just great parenting
Y'all, parenting is so hard, and this is 99 percent of the reason why. Teaching our kids to be good, to work hard, to solve problems — all these things require us to show them what it looks like to be good, to work hard, and to solve problems. Basically, the most essential pre-requisite for good parenting is living a good life. And that is not easy.
But it's also one of the reasons that lessons like "we are problem-solvers" would be so effective — I'd be teaching my kids how to live a good life, not just how to cross-multiply. And that is exactly what I want to teach them — so I better stop outsourcing my problems and start solving them.