It may take some trial and error, but there's a healthy activity for every type of body and personality.
What can God do in your life with one Bible verse a day?
Subscribe to Aleteia's new service and bring Scripture into your morning:
Just one verse each day.
Click to bring God's word to your inbox
A couple of years ago, just before hitting 40, I decided to go through my closet — ruthlessly for once. I was going to start this new decade that so many of us dread on top of things: knowing what I like, knowing what suits me, looking good and feeling great!
I wish I could say that it was a success, but it was an unmitigated disaster. Not only did I realize I had no clothes that made me feel great, I discovered that most of them were straining at the seams. So my afternoon of feeling invigorated, renewed, and ready to hit the big 4-0 was a washout—quite literally, considering I was slumped on the floor crying for myself and my overly-stretched clothes.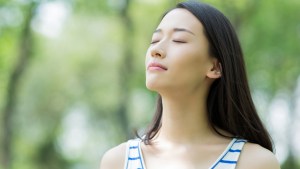 Read more:
3 Simple exercises to effectively reduce stress
I could have reached for a candy bar to give me that brief feeling of comfort, but decided instead to finally make some rational changes. I got the clothes out of my "thin box" and "thinnish box" — both pre-babies. Accepting that those hips were probably here to stay, I bagged everything up and took them to a local donation center, imagining some size 4 woman being able to slip into my pants without having to hold her breath. It's not that I didn't think I'd ever be thin, slim, or even curvy again, but my clothes were just not going to be my motivating and defining factor.
There were of course the usual trends of the moment, such as Pilates and all those sorts of stretchy, bendy, flexibly-demanding exercise classes that are all the rage but just aren't for me. I've seen so many beautiful Instagram photos of wonderfully supple, swishy pony-tailed types balancing off a bridge on one toe while smiling into the depths of an abyss. And as much as I admire them their bravery and poise, I know my limitations — I'm scared of heights. But even if I abandoned the vision of me standing on a beach with one foot locked behind my ear looking wistfully into the waves, the real source of my reluctance comes from already having tried Pilates … once. It wasn't very successful. Every time my instructor turned her back, I fell flat on my stomach with relief. That's when I realized that wisdom really does come with age: accept your weaknesses, and mine were anything to do with a little roll up mat.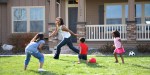 Read more:
How to get your daily exercise in while "momming"


So … maybe running? But I can't run; it hurts my knees and my pride, as I always give up after a tenth of a mile. My doctor also said it isn't that great for people with poor circulation, so that was that, marathon-running was crossed off my list. I did love trampolining — at college I was on the trampoline team — but again, after four kids that was dead in the water. Water …
I do love swimming, though, and Gillian Anderson's character in Netflix's The Fall always looks so powerful as she glides through the water, jumps out, throws on a suit as well as a menacing look, and solves the most complex murders. The only hiccough was having to wear a swimsuit and reveal my lily-white, corned-beef textured legs to the world, a distinction that earned me the nickname "ghostie" in school. But I knew I wasn't alone as even friends who look "perfect" to me feel vulnerable in a swimsuit. Feeling empowered, I went to my local pool determined to learn to swim with my head in the water. I booked a lesson with a lifeguard who made David Hasselhoff (in his prime) look scrawny, and who scared me enough to do as I was told … and I haven't looked back.
I'm in the pool now at least twice a week, mixing strokes and speed, and I feel strong. I have muscles I never knew existed, my asthma has improved, and I can run up the stairs and have a conversation at the same time. There are so many physical and mental benefits to swimming, so it is not a surprise that it's America's fourth most popular sport. Doctors say swimming is excellent physical therapy following numerous types of surgeries, including breast cancer.
And my children will be especially pleased to discover that consistent swimming can prolong our lives — I might get to 100 years yet! It's a family-friendly sport, so we can post group selfies looking like drowned rats. And although my dress size hasn't really changed I think I look fitter and firmer, sadly my legs are still not honey colored and could do with an extra five inches, or so, in length. And as for my stream-lined closet, those "thin" boxes have made way for flippers, goggles, swim caps, funky towels …
But I have finally found my sport. It may not be the latest trend, and it may mean I have to drag myself to the pool in the snow, but when I'm in the water I feel wonderful and for the first time in many years, I feel in control … I feel healthy.