Christian artists were deliberate in their choice of colors, recognizing the meaning that each one conveys.
Need an idea for Lenten almsgiving?
Help us spread faith on the internet. Would you consider donating just $10, so we can continue creating free, uplifting content?
Make a Lenten donation here
The iconography written by the earliest Christians in the Near East has always been very specific in the particular meaning of colors and details. The gold reflects the radiant light of God and reminds us that for those in heaven there are no shadows. Red depicts a martyr's death, or a celestial fire. Eyes are large and ears are pronounced because the holy man or woman being depicted is always looking at God, always listening for God's voice.
Just so with colors in the sacred art of the West. Christian artists over the centuries have taken great care in choosing the right color to express the spiritual symbolism of a scene.
Sometimes this was in line with the liturgical colors of the Church, but other times it was in accord with the Christian typology that was passed on from those earliest icons.
Here are five colors that have been used over the centuries to convey different spiritual realities, adding depth and meaning to any Christian artwork.
Black – The color black typically represents dark spiritual concepts, such as death, evil, and sickness.
Brown – The color of dirt, brown was used to symbolize the temporary nature of created things as well as humility and poverty.
Green – A color associated with spring, green was used to represent new life, regeneration, and hope.
Red – This color is often used on the robes of Jesus and has multiple meanings. Red symbolizes love, fire, passion, and the blood of sacrifice. It is also associated with the color of the earth and can represent humanity.
White – The color of holiness, purity, cleanliness, and righteousness. The angels are usually depicted in white. White robes are also a sign of the saints, especially Christians who have persevered through persecution, taking a line from Revelation 7:13, ""Who are these, clothed in white robes, and from where have they come?"
Interestingly, in Orthodox iconography, one color is never used. The color gray is not used because iconographers will tell you that gray — a mixture of black and white (the colors of sin and of righteousness) — is a "color of vagueness" that cannot sustain the Gospel.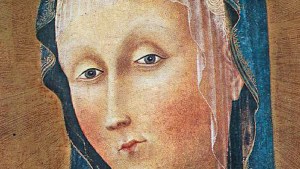 Read more:
Why is the Blessed Virgin Mary always wearing blue?