John Wayne is out. But not all of us want to (or can) be soft-voiced guys in skinny jeans.
What is a man?
As a "millennial" male, I find it a question worth asking, because socially it's becoming difficult to define. Phrases like "toxic masculinity" get thrown around, but they serve an ideology. I don't think most people believe that men are intrinsically bad, or dangerous, toxic, or oppressive.
Still, as a millennial I have watched as our society, our art, and our media outlets have begun to blur traditional ideas of what constitutes a man. John Wayne is out. But not all of us want to (or can) be soft-voiced guys in skinny jeans.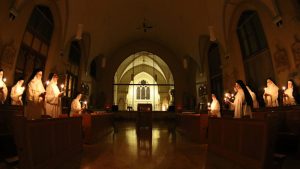 Read more:
Millennial and monastic: It doesn't get more counter-cultural than that
When I was growing up, a man in his late 20s (like me) still living at his parents' house would be suspected of being weak or shady. If he had his stuff together, he'd be married, he'd be looking for that first house, and starting a family, right?
I'm not weak, not shady; I'm an honest guy who tries to do right by others, but I'm nowhere near to doing any of those things.
The truth is, I don't yet feel like a man. In my head, and until I look in a mirror, I consider myself a boy.
I would rather watch a movie about superheroes than see a new political thriller. I'd rather play a video game than go to out to a club. My girlfriend is constantly snapping me back to reality when my mind wanders because I'm scouting a new room for the best escape route, in case zombies (or shooters) burst through the door.
Cooking is out. If I can't pull something out of the fridge and immediately chow down, I'll literally stay hungry. If I do go out to eat, I will inevitably wind up with a hamburger. It's not that I don't appreciate fine food – I love a roasted duck – but I'm impatient, and too utilitarian. The function of eating and being done outweighs the pleasure of indulging in something more refined.
It's a paradox: it sounds like I'm content to be slow and lounge around, and yet I cannot wait to finish something and move on. But I'm never sure what I'm moving on to.  
Read more:
Dating and Courtship in the Digital Age
I have no interest in a traditional career, with a clock to punch or a cubicle to spend a third of my life in. I've watched my parents do it already. I've seen the rewards, sacrifices, injustices, and the incredible amount of stress that comes from devoting one's life to a company and it's left me with little inclination to seek out a corporate position, no matter how tempting a bigger paycheck may be.
A steady income – a big one – is the path to freedom, I've been told. But that's a freedom that in truth costs a great deal, and it's a cost I'm not sure I want to pay.
Does that mean I am not yet a man?
Here's the strangest part: I didn't start out this way. I was a very industrious kid. I got my first job, working in a nursery, when I was 12 years-old. I worked at a responsible job in a church rectory until I was 17. I have never "not" worked. I'm an Eagle Scout and (nominally) a Knight of Columbus. I went to college, got the quarter-million dollar degree – the diploma hangs above my bed like the Sword of Damocles – and I'm faithfully paying off the student loans by working part-time jobs. There are the "seeds" of traditional masculinity inside me, and I never consciously rejected them.

But something has changed, and it hasn't changed only for me, but for my contemporaries, too. Most of us are still living at home; a few of us have married, but we're mostly still single. Why haven't we moved on?
The only explanation I can think of is that my generation has been disillusioned by the discrepancies between what we were told the world was, and reality. We saw the Twin Towers fall when we were at our most impressionable, we've seen politicians, from the presidency on down, dwindle in stature, likewise our degrees and our sporting heroes.
Read more:
What millennials can teach us about raising kids
There's a line from Christopher Nolan's The Dark Knight: "You either die the hero, or you live long enough to see yourself become the villain." My generation understands this to be true.
Illusions have fallen for us. Perhaps it's because we are the first internet generation with so much information, so much exposure to human weakness, sin, and misery. Maybe we're just overwhelmed, and drawing back.
I don't know where I'm going to be in five years and I don't want to know. A suburban house with a white picket fence to me looks like a cautionary tale, with each picket holding down another rung of the chain, keeping you held back at the neck.
And yet … I do want to marry, someday. I do want to have a family of my own – to be a dad. I understand the value of a strong family because I've been lucky enough to have been raised in one. I understand the value of faith because I've been raised in faith.
An object at rest tends to stay at rest, but for us, an object in motion also tends to move toward rest. This is not good; I know it. My millennial friends know it. We're just uncertain about our next actions, or our next act.