When we face the next tragedy, we'll know better how to help those who are most affected.
Send us the names of your loved ones who are sick or suffering. The Aleteia prayer network of 550 monasteries will take them to prayer for the World Day of the Sick.
Click here to share your intentions
"The Lord is close to the broken-hearted, and saves those who are crushed in spirit." — Psalm 34:18
It seems there's always a tragedy filling up our newsfeeds — more stories of suffering and heroism — and just as the recovery is beginning, a new disaster comes to take its place. But for the people living through these tragedies, they last much longer.
BBC recently spoke with those who were affected by the fire at Grenfell Tower in England. Teresa Griffin, who witnessed the event, recounts how she was unable to help her life-long friend Tony Disson, who was trapped on the top floor of the tower. "He was talking to people out the window. And this went on for hours, " she says. "And then … nothing."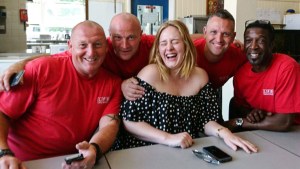 Read more:
Adele surprises Grenfell Tower firefighters with goodies (PHOTOS)
While Teresa describes her struggle with feelings of guilt and self-blame, Paul Menacer, who lived on the sixth floor of Grenfell, describes his ongoing struggle with hyper-vigilance. Thus far, over 600 people affected by Grenfell have been referred for mental health treatment, the largest number ever sent in response to this kind of event.
With ever-increasing awareness around mental health and trauma, perhaps we are starting to see a positive change in the way we as a society respond to and support victims of these horrible circumstances.
We ought to remember the lasting effects of such events so that, as we remember, we will not be discouraged, but instead show compassion and, when we inevitably face the next tragedy, we will know all the better how to respond to those affected most.
You can hear the full stories of Teresa and Paul in the video below.