But be aware of retreating too deeply into such solitary spaces.
Need an idea for Lenten almsgiving?
Help us spread faith on the internet. Would you consider donating just $10, so we can continue creating free, uplifting content?
Make a Lenten donation here
The latest "she shed" phenomenon, referred to by many media outlets as the female equivalent to the man cave, is said to be a cure for the retreat time craved by busy moms and wives. While the cliched "man cave" may be filled with a television and sports paraphernalia, traditional she sheds incorporate opportunities for channeling creativity and sipping coffee while flipping through a book.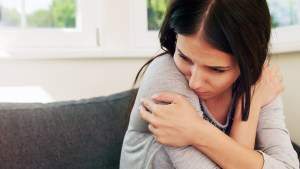 Read more:
Don't be afraid to be alone! It's a natural state of being
The Today show recently gave away a she shed live on air to one of the many screaming women watching on set. The well-known busyness of today's culture probably would elicit a similar response by many others not present at the giveaway — both men and women — if they were handed their own retreat space free of charge. Time alone is vital and good for anyone's stamina and overall well-being, but can it ever be a bad thing?
Experts say man caves and she sheds are a good addition to a home that may help those who have them to reset and relax, but abuse of these spaces might lead to divisions within a family or a rift in relationships.
"For families who have these spaces in their homes, it is important to keep open communication about their purpose and meaning," said licensed marriage and family therapist associate Anne Harton.
Harton, who uses the Gottman Method with couples in therapy, says that spouses should not use she sheds and man caves to avoid talking to each other when a hard but much-needed discussion arises, nor should the spaces be used to dodge a difficult parenting moment.
"While it's important to take breaks from one another especially when emotions are elevated, it is even more important to have a plan to return to one another," Harton explained.
The Gottman Method derives from Drs. John and Julie Gottman's research on relationships. In addition to other key findings, their research found that couple's must "learn to manage conflict." To accomplish this, Drs. John and Julie Gottman have developed nine practices for couples to adhere to and one of them, managing conflict, involves dialoguing about disagreements.
Many times, man caves and she sheds originate as harmless spots that simply allow one to channel a hobby or just rest, but they have the tendency to transition to a way to withdraw from the community fostered within a household.
"Before realizing it, these spaces can become more of an escape from vulnerable interaction," Harton said. "This harms a relationship."
Read more:
The one word that leads to more intimate relationships
Dr. John Gottman's research also found that making bids in what he calls the "Emotional Bank Account" can serve as a long-term investment in a relationship. These bids are appropriate acknowledgements of the other. If bids are made on a regular basis, they regulate relationships thereby maintaining their health.
"Gottman says the smallest bids for attention make a difference in the long run because it makes it a routine that lasts through tougher times," Harton said.
When applying the Emotional Bank Account idea to the separate retreat space scenario, it's especially important for bids to be made because of the reclusive nature of these spaces.
"Lack of acknowledgement between spouses turns man caves and she sheds into places of exile," Harton said. "Isolating yourself and forgetting to turn to your spouse can be dangerous."
So, certainly, the "everything in moderation" mantra applies to she sheds and man caves. In fact, appropriate use can make for an even better family life.
"When used well, these spaces can support a relationship," Harton said. "Perhaps, a wife may be an introvert and need to recharge after a day of social interaction at work or a husband may be emotionally flooded in a conversation and need to process and cool down before handling a conflict constructively."
Read more:
Why Emoticons Are Not Enough to Make a Real Connection
Harton says staying cognizant about the amount of time you spend in your own designated space or checking in with your family before retreating after a long day at work can help to maintain the balances that make man caves and she sheds an overall positive aspect to the home.
"Something that says, 'I am here for you, I love you, I'm not rejecting you, I just need some quiet time,'" she explained. "By acknowledging the other before you retreat to your space, instead of signaling that the space is a place of exile, you're actually saying 'Hey, I love you so much that I need to recharge so I can give my best self to you and really listen.'"
Sarah Swafford, an author, speaker, and relationship expert, echoes Harton's insistence that it is important not to use these spaces as escape routes.
" … to be able to rise above tiredness, frustration, tough days, etc. and show the people you love virtue and selflessness, even when it's hard, I think that will go a long way to showing the world what true love and teamwork looks like in a marriage and family," she said.
Adhering to a balance and appropriate use of she sheds and man caves, "respects the withdrawer's space while also respecting the pursuer's bid for attention and appreciation as well," Harton explained.
This respect leads to mutual trust and understanding and, so, when you do need to take time to be alone in your own designated space, your family and spouse will be more receptive to that need. In fact, such a space may help you understand yourself better, something that is important on an individual level and a relationship level.
After all, as Swafford explains, your family "knows you at your best and loves you at your worst" and establishing trust is pivotal to their understanding of your needs and vice versa.
Lastly, invite others to your space – make it a welcoming place.
"As long as lines are open and others don't look at it as purely exclusive, the spaces are good things," Harton said. "They might be places of retreat, but are open to others as well … this allows one to not be in a relationship with their man cave or she shed, but instead with their spouse."