Interview with Meme Alsina, a tetraplegic with a degree in library science.
Here's Meme Alsina in numbers: 98 percent of her body is paralyzed, she is 36 years old, she has 7 siblings, 24 nieces and nephews, 1 sister who is a Carmelite, 1 brother who is a priest, 2 special devotions (Saint Jude Thaddeus and Saint Rita), and one passion: working with computers. This woman, amiable in speech and strong in spirit, received us into her house in Barcelona one Friday afternoon in late summer. If Aleteia weren't there to interview her, she would be working on her computer, which is what interests her the most.
Mornings are for work: in her case, at the Balmes bookstore, where she is in charge of the website and online sales. The bookstore is unfortunately close to the location of the terrorist attacks last August 17, at Las Ramblas, Barcelona, which ended the lives of so many people. "I don't understand what is going through the heads of the terrorists; they must be sick, because it's impossible for there to be so much evil," Meme Alsina says. Her full name is Mercedes; she's named after Our Lady of Merced ("Mercy"), the patroness of Barcelona.
I like the verb "help"
"Help" is a verb that she uses a lot while we talk. "I like this verb: 'help.'" She acknowledges that "letting yourself be helped is good for you, and for others. People sometimes come up to me and ask, 'Can I help you?' And I'm thrilled, because even if I don't need help, it means they love you, so I let them take care of me." Her 24 nieces and nephews range in age from 1 to 22 years old. She is one of 8 children. "I have seven siblings," she explains. "Seven is a lucky number," I answer, and she smiles and agrees: "Well yes, I'm very lucky to have my family and friends."
This summer she read 8 books: 4 on her iPad and 4 on paper, with someone who turned the pages for her. "I'm thirsty. Could you give me some water?" she asks, interrupting the interview. The fact is, Meme needs help, and lives in that situation completely naturally. She became ill when she was two and a half years old. "How do you deal with being dependent?" I ask; she answers, "It's no problem," because being dependent "makes you trust people" and realize that "you're in good hands."
We all have some disability
"Often, people who seem to have no physical limitations have a more limited life than people with disabilities," she says.
"When you have a physical disability," she continues, "you pay more attention to people's character, and to little details, and you realize that there are people who could enjoy so much, but who think too much about themselves, or want what they don't have … When there are things you lack, as in my case, you put much more emphasis on what's important, and you see how people who have what we would call a perfect life don't enjoy that gift. The truth is, very little is necessary for you to be happy."
What should we call disabilities?
"I don't care what you call it; the label won't change my situation," she replies, when people ask if the should refer to it as a disability, or as a handicap, etc. "Some people are very sensitive about this issue; generally speaking, I don't have a lot of friends with disabilities. My friends from library science [in the university] have been very good companions, and also at the Pinar school run by nuns, where I studied. Everyone has always been there for me."
She teaches First Communion classes at San Ramón Nonat Parish, and she loves it, and the children really enjoy helping her. Her mother accompanies her and takes her home afterwards. Sports? Well, "this summer I had fun in the water" she says—but not in the winter, she clarifies, and laughs. Once a year she goes to Lourdes, although she avoids the baths. But going to the grotto and imagining herself as Bernadette is something very special, "more so than the esplanade at Fatima, for me."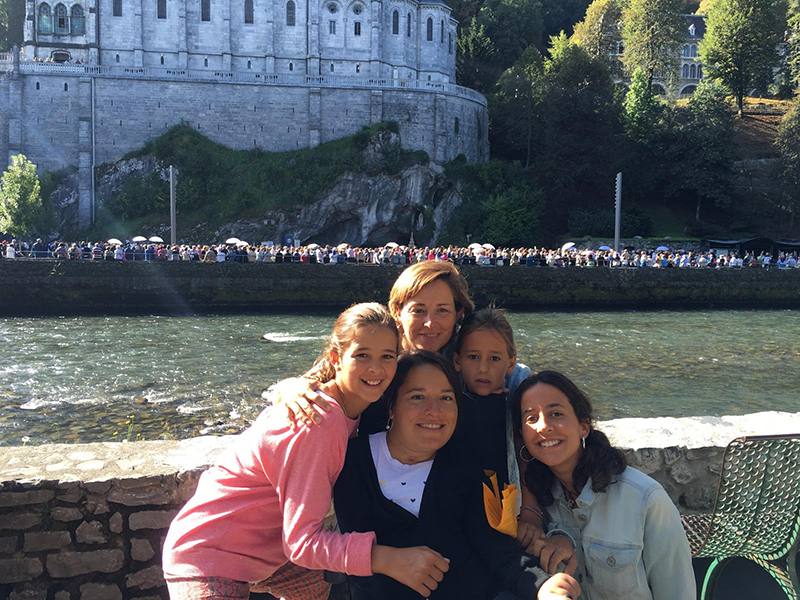 "Your longest trip?" I ask her, and she tells me that it was to the Holy Land. She has traveled to other locations, such as Fatima, but she doesn't like airplanes because of the nuisance involved due to her condition, having to get in and out of her wheelchair and deal with uncomfortable seats.
There's a reason for everything
The most interesting lesson Meme transmits is that "there's a reason for everything," even if, of course, "we don't understand it." She spent several months this year in hospitals, in the Intensive Care Unit, and it's been "a difficult time," but she grants that it was a time in which many people prayed for her and helped out. "It was worth it for some reason," she says, convinced.
She isn't afraid of the future; she doesn't even think much about it. "I'm sure it will be good," she adds.
While I interview her, I see a framed photograph of a Carmelite nun. "That's my sister, Carmen," she tells me, with clear affection for the nun. At Christmas time, they go to the convent in Tiana and, although they cannot see her, they communicate with her through the grille. "Also, when we have some sort of family celebration, such as a wedding, the family tries to get married nearby, so we can go and leave the bouquet with Our Lady of Mount Carmel."
We bring the interview to a close. I go down in the elevator and I think that she's right: the future "will certainly be good." And I agree with Meme that being dependent makes you trust others. As I walk down her street, where she will pass so many times in her wheelchair, I use my phone to send the photo that we took with Meme to her brother, Fr. José María, who is in Toledo (Spain). He answers with the phrase I want to use to close this interview: "Everyone who meets Meme benefits from it."