No matter how badly things are going, these tips can help change things around.
Whatever the reason you're having a bad day, these simple activities will help you put your worries aside and boost your mood. Instead of dwelling on the negatives, pick one or two (or more!) of these suggestions, and watch those dark clouds lift.
1. Write a gratitude journal
When some things are going badly, it's hard to remember what's going right. By keeping a gratitude journal—in which you list each day the things you are grateful for—you'll be prompted to remember all that's good in your life. You might find there's more positivity than you realized. By giving thanks, you're also recognizing God's hand, which is helping to ease those everyday burdens. Of course, your difficult moments won't just disappear, but you'll be aware that, even during tough times, there are moments of happiness, and things that being joy. Often, we can find those moments in the love of our family members, the affection or silliness of a pet, or the beauty of a sunset.
2. Get some exercise
Whether you're a pro or not, sports are a great way to unwind. Not only can you let off steam by burning off your nervous energy, you'll get those pleasure-inducing endorphins flowing through your body, giving you a real boost. After a good run, a few laps in the pool, a game of tennis, or even a bit of stretching, you'll feel a lot more relaxed.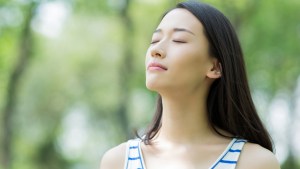 Read more:
3 Simple exercises to effectively reduce stress
3. Dive into a good book
The moment you open a good book, you're grabbing the opportunity to escape and think about something other than your own life. Sometimes that's all you need to put things in perspective! After turning a few pages, things might not seem quite so bad.
4. Pray
Give yourself a gift: set aside a few moments in your day for prayer. You could even try a Christian prayer app, such as PrayerMate, for prompts and inspiration. Just put everything to one side — especially your worries — close your eyes, and open your heart to God's presence: He is with you!
5. Go for a walk and connect with the great outdoors
Being caught up in the whirlwind of everyday life, we often forget to get back to nature. In our permanently connected lives, returning to our roots and to simplicity can be a real saving grace. Take time out to wander in the forest, or on the edge of the lake—or even lie down on some grass in your local park—then, take in some deep breaths, listen to your surroundings and stay quiet for a few moments. You'll soon feel refreshed and ready to go! (Don't take our word for it—there's a growing body of scientific research that backs this up.)
Read more:
WATCH: The incredible movement of God in nature
6. Treat yourself
Cave in and buy that article of clothing you've been eyeing for a while now, go to your favorite café for a hot cup of something delicious, or just pick out a simple plant or bouquet of flowers for your kitchen table or office — even a simple pleasure can change your mood and bring a smile to your face. By treating yourself from time to time, you're actually taking care of yourself. Just be careful not to make this a frequent habit, or treats will lose their comforting powers—and be sure it's in your budget, or what starts as a treat can end up being an even bigger headache.
7. Cook up something special
By keeping your mind and your hands busy, you'll be able to think of something else. You'll have the pleasure of contemplating the fruits of your labor, and of course, eating it. (Don't forget: extra positivity is sure to be gained by sharing your edible treat.) Try out new recipes that aren't too complicated to keep yourself truly distracted. (Try exploring the food tag here on Aleteia—you may find some ideas and new recipes to try!)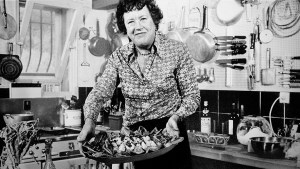 Read more:
8 Life lessons from Julia Child to inspire you in the kitchen and beyond
8. Return to the age of innocence
There are "children's" activities that can be just as fun—and healthy—for adults! Do you like board games? Pull those dusty boxes out of storage and enjoy a round of your favorite game with your family or friends! If competitive group activities aren't your cup of tea, how about coloring? Coloring books for adults are a "thing" nowadays, so buy yourself a coloring book for grown-ups (or one for kids, if you prefer—why not?), break out the Crayolas, and open those dreary black-and-white pages—which may represent how you feel about your life right now—and fill them with color!
9. Listen to your favorite music
Music has the ability to transport you elsewhere and to change your mood. Whether you're listening to music in your car, on your headphones while doing exercise, or on speakers back home, play something invigorating and catchy that will have you singing along and forgetting all your worries. We recommend steering clear of the Blues or somber classical music, though, when you're having a bad day!
Read more:
The Petrucci Music Library offers all the classical music you could ever want … for free!
10. Take a nap to switch off
Some sorrows are just too hard to hide, and sometimes it's tiring having to "appear normal." If you've been crying, those tears will make you tired due to both physical and hormonal reasons. In that case, it's a good idea to close your eyes and drift off for a while. Everybody appreciates a moment to switch off and forget now and again.
11. Do a good deed
This is not just a question of slipping a check in the mail to your favorite charity. That's a good start, but it's even better if you can do something to help others in person. Actively helping others in your community will really help you feel more positive. It doesn't need to be anything major; on your way home, pick up some supplies for your elderly neighbor, or offer to carry a pregnant mom's shopping. Their thanks, or just their smile, can be quite contagious! Even if people don't always respond as effusively to our help as we might expect, just knowing you have actively loved God in your neighbor might be enough to comfort your heart and help you face another day. It will also help you remember that, whatever else may be wrong with your life, you still have blessings that others do not, and the ability to share them, maybe even making someone else's day.
Note: These suggestions can help raise your spirits if you're just having a bad day, or a bad week, or if you're just stressed out due to a transitory situation at work or at home. If the situation is becoming habitual or overwhelming, don't hesitate to seek professional help from a licensed therapist. Sometimes we're afraid to take that step or are embarrassed at the prospect of asking for help, but the benefits can be huge—even life-saving.
This article was originally published in the French edition of Aleteia, and has been translated and/or adapted here for English-speaking readers.