God doesn't waste anything, especially not time.
You know how you can tell so much about a person by how they choose to spend their time? "Where your treasure is, there also will your heart be." What you value the most will be reflected by the time, passion, attention, that you show it.
I started wondering about how Jesus spent his time. Did he heal the sick more often than he prayed alone? Did he preach in public more than to his disciples? Wrong on all counts. Jesus actually spent most of his life doing carpentry. It's easy to forget this. The Gospels, after all, are mostly an account of what he did when he left home, for those final three years. And it's right that we focus on them, but what isn't recorded is almost as interesting. Scholars saythat St. Joseph probably died around the time that Jesus was 18, so Jesus would have spent the next 12 years supporting his mother, through the trade Joseph taught him.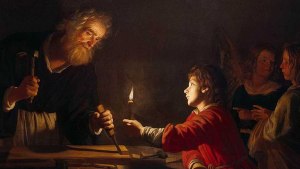 Read more:
What did St. Joseph actually do as a carpenter?
Twelve years. The son of God, living in a poor town with his mother, working, taking care of her. Twelve years of near total anonymity.
I'm equal parts comforted and terrified by this fact, because here's what it means to me. It means that my extremely mundane life is much, much more important than I've thought. God doesn't waste anything, especially not time. He lived on Earth for less than half of the normal human lifespan, and somehow, I don't think that he was waiting for a nice round number to start his real work. I assume he would have been plenty mature enough to start preaching, at, say 25, if he'd wanted to. But he didn't want to. He wanted to live the life he lived, this impossibly quiet life of a laborer.
Catherine Doherty, (whose cause for beatification is in the works) helped me wrap my mind around this. Her whole understanding of spirituality comes out of a meditation on Christ's hidden years, which we are called to imitate, just as surely as we are called to follow him. She writes,
"In Nazareth, [Christ] reduced love to our size. We are little people, and as we read in Scripture

about his immense love, it can overpower us. But if we listen in quiet, and hear his voice come

gently and simply,

do little things exceedingly well for love of me

, the routine chores of the

workplace and the daily tasks of housework begin to be a way of loving him. This way of loving

him is so very simple: the diapers, the baking, the laundry, sitting quietly, telling stories to the

children, holding the hand of one's spouse. All are little acts of love, directed not only to one's

family, but to God."
The actions really are little. But add love, and suddenly they're huge beyond all telling. I'm trying to learn, as she says, "to connect ordinary and seemingly boring life, in its repetitious and constant details–with love who is God." After all, she says, "Love makes every gesture, step, word, and work, redemptive." Catherine believed that work done out of love was as much of a prayer as our words ever are, because all love is from God and for God–and love cannot be wasted.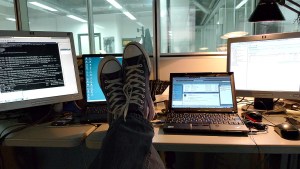 Read more:
A lesson from Eden: We were made to work
So for years, Jesus, built plows and yokes, and sold them so that he and his mother could eat. But he did this with perfect love, and the love made even those actions part of the work of our redemption. Jesus' labor might have been every bit as important as his public ministry. His work in the carpentry shop might have been as necessary for the world as the Sermon on the Mount, or the Transfiguration. Love transforms everything it touches, and no act is so small as to evade the change.
When Christ says "Follow me," which he says to each one of us, he is calling us to imitate his love. Whatever the action, whether it's a martyr's death or a floor swept, love gives the action its value, nothing else. There's nothing so tiny or boring or ordinary that, done with love, can't save souls, and bring the world to Christ.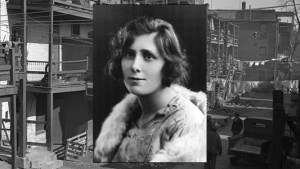 Read more:
For this saint, sanctity was as simple as a smile and a day's work