Remember these tips when navigating your relationship with your spouse's family.
What can God do in your life with one Bible verse a day?
Subscribe to Aleteia's new service and bring Scripture into your morning:
Just one verse each day.
Click to bring God's word to your inbox
One day, I heard one of my sons, who's in a serious relationship, say to his girlfriend: "You're just like my mom!" His girlfriend just laughed and said that he always tells her that we are very similar. Of course, I blushed. But to be honest, instead of feeling flattered, I was worried. And not because I am the worst mom, but because such comparisons are usually not well received by daughters-in-law or sons-in-law. In the moment, all I said that was that I saw some similarities between us, but that I would like to be as pretty, charismatic, and intelligent as she is. I took care to flatter the future bride, and these are compliments that she deserves because she is an amazing girl who loves my son.
Then I called my son to talk to him alone. I asked him to avoid telling his girlfriend such things in the future, and emphasized that there is no one just like her, not even his mother! I explained that such comparisons could make her uncomfortable around us and put her relationship with us — especially with me — at risk and make it harder for her to want to be around us. I wanted him to understand that once he got married, the most important woman in his life had to be his wife, not his mom. Such comparisons are never good, much less when we are married, because the wife will end up wanting to send her husband right back to his lovely mom …
Read more:
5 Keys to enjoying (not just enduring) your in-laws over the holidays
This issue of the in-laws is something delicate and sensitive in many families, especially in tight-knit families where parents have a harder time letting their children go.
Mission accomplished
Once we're married, our priority should be our spouse. It's not a question of not loving, visiting, or caring for our parents, but of expanding our heart and putting our loves in order. For loving parents, there is nothing more satisfying than seeing their sons loving their wives, or their daughters loving their husbands. That means that we have fulfilled one of our many tasks that we have as primary teachers in the school of love: teaching them to love and respect their spouse above all other loves.
How to relate to them
Now let's get down to the practical points. When that longed-for marriage begins, many newlyweds view their relationship with the in-laws as a big challenge, simply because two worlds of customs, ideas, and family cultures are now merging. There can be many questions about how to handle the relationship in such a way that the other family welcomes us and our family also accepts our spouse.
Read more:
Why do holidays bring out the worst versions of ourselves?
Each of us must do our part and a lot depends on the place we give to our spouse in front of our family, and the place we give our family in front of our spouse.
Here are some basic tips that can help us get along better with our in-laws.
To begin, both spouses must understand that their priority should be each other, even when there are children. The spouses must embrace the idea that they are building a life together, and should look for ways to strengthen their relationship. That takes time and dedication.
Keeping an attitude of gratitude towards the in-laws is key. If you can't seem to find anything to thank them for, just remember that it's thanks to them that the man or woman you love was born. This act of recognition can spark deep gratitude.
Remember that your spouse come from a family whose habits, values, and ways of showing love are different from yours. It may be that her family is very cold, disunited, and distant and his is very close and warm. You must find a good balance so that these kinds of differences are not cause for jealousy and marital quarrels, nor an obstacle for you to grow as a couple. Constant acts of love and service, and taking the time for your spouse, can help him or her feel like the number one priority in your life.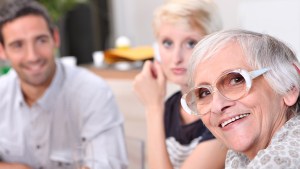 Read more:
Trouble getting along with your mother-in-law? There's a reason why
It is important to understand that when you meet with your in-laws, the atmosphere must be one of cordiality and total peace. You can't control everything, but you can control how you react and behave. Avoid any conversations, comments, or situations that could lead to a heavy, hostile atmosphere or to arguments.
Your marriage problems are yours, just like your intimate life. Don't go venting about your spouse with your relatives, especially your parents or in-laws, when things are not going well in your marriage, because at the end of the day you will make up with your spouse but the words you said will somehow remain in the air. Please, unless your life and emotional stability are really in danger, it's better to keep it to yourself or some other trusted confidante outside the family circle.
When there are family gatherings, don't try to have the last word or be too domineering or bossy. Also, avoid discussions about controversial issues like politics, which seem to bring out the worst in people and rarely end on a good note. The goal is to help everyone have a good, pleasant visit. This takes an attitude of service, availability, and cooperation.
It is always good to ask your spouse how their parents, siblings, and family are doing. Let your interest be sincere and come from a genuine love. What if you feel no love for them? Well, you can learn to love by loving.
Read more:
What my mother-in-law taught me about my own cold heart
Relationships with in-laws can sometimes be difficult, and it's not in our power to control the way other people behave. But what we can do is control our own behavior, putting our spouse first and keeping a positive, accepting, cordial attitude toward the people who gave you the man or woman you love.
This article was originally published in the Spanish edition of Aleteia and has been translated and/or adapted here for English speaking readers.