The Holy Father sent a special message to the participants of the sporting event that takes place this week in Toronto.
In support of the Invictus Games underway in Toronto through September 30, Pope Francis sent a brief message to express his closeness to all those involved.
The Games are a multi-sport event for wounded, injured or sick armed services personnel and their associated veterans.
Secretary of State Cardinal Pietro Parolin wrote on behalf of the Holy Father: "His Holiness encourages all the competitors to offer the world a further witness of the indomitable human spirit which, through God's grace, is capable of meeting every challenge with determination and courage."
"[Pope Francis] prays that these days of competitions may foster a fruitful encounter between nations, cultures and religious beliefs, and represent a concrete sign of unity among peoples and the dignity of every human life."
The Holy Father assured the participants of his prayers and invoked "upon all present the divine blessings of strength and peace."
The Invictus Games are an initiative of Prince Harry, who is both founder and president of the program. He launched the initiative in 2014 after witnessing the Warrior Games in the U.S.
Prince Harry said that the games "focus on what [soldiers] can achieve post-injury and celebrate their fighting spirit through an inclusive sporting competition that recognizes the sacrifice they have made."
As a veteran of a 10-year military career that included two tours in Afghanistan where he was known as "Captain Harry Wales," the prince is very familiar with the sacrifices of the battlefield. In a an interview with People magazine he said his desire to develop the games was born of the "powerlessness" he felt when he wasn't able to save lives on the battlefield. He recalled, "You turn up and you think you're invincible in a super-duper aircraft, but you're helpless. … [Creating the Games] was almost like a cure for that pain I had back then."
This latest message of Pope Francis is one of many that he has given to various sporting events and organizations during his pontificate. Most recently Pope Francis praised the actions of the NHL and their Declaration of Principles that were inspired by a Vatican conference on the connection between faith and sports.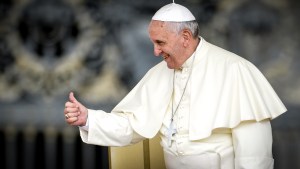 Read more:
Pope backs hockey's effort to make positive changes in sports culture