Marshall B. Rosenberg's nonviolent communication (NVC) is proving popular for resolving family conflicts big and small.
What can God do in your life with one Bible verse a day?
Subscribe to Aleteia's new service and bring Scripture into your morning:
Just one verse each day.
Click to bring God's word to your inbox
Do you sometimes find yourself snapping at your spouse or your kids, and creating a tense atmosphere at home? You're definitely not alone! But what if there were a way to find some peace and harmony that would benefit you and those you love?
You might want to look into nonviolent communication. It's particularly useful in a family setting for helping family members communicate effectively and allowing peace to reign. If it all sounds too good to be true, we've spoken to those who've tried it, and the results are very encouraging.
Developed by American psychologist Marshall B. Rosenberg in the 1970s, nonviolent communication (NVC) gives us the ability to change our language and our interactions and to act with kindness, thereby inspiring others to do so as well. It all starts with one of NVC's fundamental principles: recognizing your individual needs and taking charge of them, without holding others in your circle responsible. Combining emotional intelligence with rational intelligence, it is taught in many countries around the world, and can literally transform family relationships.
Read more:
Communication: Key to Your Marriage's Success—or the Reason for Its Failure?
Taught at camps for adolescents, NVC has been met with mixed reactions among young people. Some children consider it all a bit too much "love, hearts, and rainbows," while others find it genuinely useful. It gives them a mechanism to let their parents know that they are irritating them, without telling them they are being irritating. It allows kids to communicate with their moms and dads without aggression, even at a time when they're being threatened with having their cellphone taken away — and we can all appreciate the stress of being separated from our cellphone.
Yet, through NVC, what would normally end in shouting and doors being slammed, is now resolved in a calm atmosphere, thanks to four letters with an almost magical power: O, F, N, R (observation, feelings, needs, and request). A perfect example is applied here: "When you arrive home from work and tell me off when you see me with my cellphone, I feel stressed and sad. I feel wrongly accused. I need you to trust me." These four letters and the paradigm they represent have helped change the lives of thousands of people who've been made aware of NVC. And even without retaining all the subtleties of the "jackal and giraffe language" used in NVC training , everybody discovers a life-changing fundamental truth: instead of me feeling dependent on others, I must be conscious of my own needs and be responsible for them.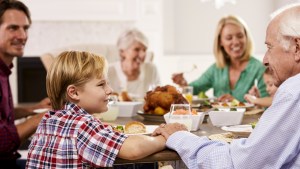 Read more:
The 6 things we'd have to change if we applied St. Benedict's Rule to family life
A suitable method from 7 to 77 years of age
There's no need to be able to read to experiment with this method of nonviolent communication within your own family. It's an excellent workaround to an unproductive tantrum; from a very young age, children can learn to express their needs. Rosenberg presents a "needs inventory" which is "neither exhaustive nor definitive." While listing many needs, the inventory on the Center for Nonviolent Communication's web page focuses on seven categories:
Connection (acceptance, empathy, inclusion, love, nurturing, etc.) Physical well-being (food, air, exercise, sleep, water…) Honesty (authenticity, integrity…) Play (joy, humor) Peace (beauty, equality, harmony, inspiration…) Autonomy (freedom, choice, independence…) Meaning (awareness, challenge, creativity, hope, learning, spirituality…)
Formerly, the words "get lost!" were not uncommon in the Parisian home of Mélanie, mother of two children aged 11 and 14. However, now they've been replaced with explanations, such as: "When I'm making pancakes and you're behind my back, I stress out; I'm afraid you're going to tickle me. Can you leave the kitchen?" Difficult to believe? For Mélanie too, as she listens to her two children talking calmly in the kitchen. If the occasional curse word still pops out, her children have at hand the list of emotions, needs and feelings stuck up on the fridge between a funny postcard, a coupon, and a medical prescription for the youngest. Mélanie confesses: "One day, there was one dispute too many: in the evening, in a rage, I threw everything off my son's desk onto the floor. I just couldn't cope with the mess anymore. Disaster followed: the lamp's power cord pulled the aquarium off the table … When I saw myself on all fours, trying to save the goldfish, with my children's petrified faces staring down at me, I knew I had to take action. I went on a four-day course in conflict management with an association called Communications. Since then, we talk all the time! When I go on too much, the adolescents laugh at me, but I've changed: I no longer lose my temper at home, and the kids have clearly picked up what I've passed on to them."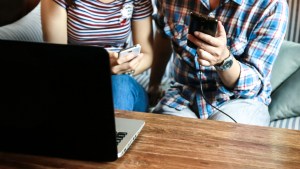 Read more:
Why we shouldn't give in to "group-think" online
A tool that makes a real difference
Florence Peltier, a family and marriage counsellor, uses the tools of NVC frequently when she's consulting, and she's noticed their benefits for breaking a deadlock or restoring a parent-child relationship to a positive situation.  She cites the example of a husband who was very critical of his wife.  NVC helped the man realize that he was actually critical of her because he didn't feel she was giving him enough appreciation, and that his expectations of her were unrealistic; she couldn't be his full-time cheerleader. He started taking responsibility for his own needs, and started doing exercise to boost his self-esteem. This allowed him to rediscover an adult-to-adult relationship with his wife, instead of whining all the time like an adolescent with an existential crisis. Another client also learned to be in tune with herself using NVC. When she feels a wave of anger or sadness, she takes a minute to focus on herself: "My feelings alert me to an unsatisfied need, like an indicator on the dashboard of a car. Do I need to relax, communicate, or have some support? Often, the fact of naming the need calms me, and allows me to take concrete action. I was becoming bad-tempered, and I blamed myself a lot. I found a tool to take control of my happiness."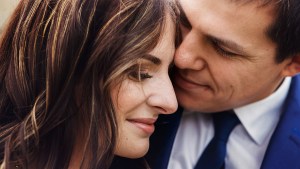 Read more:
6 Habits that will destroy your marriage, and how to avoid them
Another father, who sees very little of his young children, uses NVC to get to the heart of the matter—quite literally. The few minutes he does spend with them are very precious. As soon as he sees them he simply asks: "What's going on in your heart?" It's a way of getting straight to the essential, catching up with his children on what makes them tick, to allow them to put a name to their emotions.
Putting NVC into practice isn't a complicated procedure. It really is amazing how a turn of phrase, or just being aware of what you need, can make all the difference in how you communicate. If you're interested in nonviolent communication workshops for your family, you can go online to the Center for Nonviolent Communication for further information. Who knows, it may lead to a more peaceful family life, with fewer doors being slammed!
This article was originally published in the French edition of Aleteia, and has been translated and/or adapted here for English-speaking readers.