Despite its violence, there are a lot of good lessons to be found in football, and these films flesh them out.
What can God do in your life with one Bible verse a day?
Subscribe to Aleteia's new service and bring Scripture into your morning:
Just one verse each day.
Click to bring God's word to your inbox
Baseball may be America's favorite pastime. But these days, there's no question what America's favorite sport is. From high school to the pros, from Friday night's lights to the Monday night telecast, football reigns supreme in America come fall. And anything that's not football-related … well, you might as well set it aside 'til February.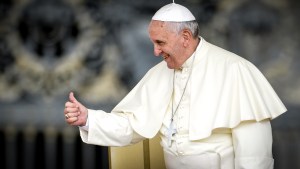 Read more:
Pope backs hockey's effort to make positive changes in sports culture
But even with the country pickled in pigskins doesn't mean that you need to set aside family movie night. The sport has produced some pretty great films over the last couple of decades, and many of them are — with a few caveats — family friendly. They can teach us fantastic lessons about family, friendship, teamwork and giving it your all — even when the odds are stacked against us. Oh, and one more thing: All the movies listed here are based on true stories.
So let's put on the cleats, huddle up, and check out some football movies that not only work on the field, but off it as well.
23 Blast (PG-13, 2014)
Available on Amazon for $2.99, Google Play and YouTube for $3.99, and iTunes for $4.99
Travis Freeman (Mark Hapka) was the biggest thing going in the small town of Corbin, Kentucky. The high school football star was talented, determined, and a super-great guy to boot. Then one day, he collapses in pain and is rushed to the hospital, where he learns that he's suffering from a life-threatening bacterial infection. The doctors save his life, but they can't save his sight — and you can't play football when you're blind: The world for Corbin's brightest star just went black.
But Travis doesn't just lose his sight at first: He loses hope. The disaster shakes Travis' Christian faith to the core. But thanks to Coach Farris (Stephen Lang) and his good friend, Ashley (Alexa Vega), Travis reclaims his faith and discovers that, believe it or not, you can play football when you're blind. Admittedly, this Christian movie isn't as slick or polished as some of the other films on our list, but 23 Blast is, like its real-life inspiration, all heart.
The Blind Side (PG-13, 2009)
Available on Amazon, Google Play and YouTube for $2.99, iTunes for  $3.99
Michael Oher (Quinton Aaron) is a huge, mostly homeless vagabond who carries his possessions in a paper bag. Leigh Anne Tuohy (Sandra Bullock) is a no-nonsense interior designer whose possessions barely fit in her lovely mansion. But when Leigh Anne spies Michael walking down a cold, lonely road and invites him to sleep on an oh-so-stylish Tuohy couch, their worlds intersect not just for a night, but for a lifetime. He becomes, quite literally, part of the family.
Read more:
Revolutionary new football helmet will lower concussion risk
The real Michael Oher, who went on to become a football star at Ole Miss (University of Mississippi) and play in the NFL, isn't a fan of this movie, which he says saddled the football player with unrealistic Hollywood expectations. (Viewers will need to negotiate a bit of foul language, as well.) But those caveats aside, most everyone else loves this flick, which earned Sandra Bullock an Oscar and was nominated for Best Picture, too. The film encourages us to help others — stressing when we do so, we're often the ones who are helped. Michael may have found a new family, but the rest of the Tuohys found that theirs had unexpectedly strengthened.
Invincible (PG, 2006)
Available on Amazon, Google Play, iTunes and YouTube for $2.99
The late 1970s marked a tough time to live in the City of Brotherly Love, and Vince Papale (Mark Wahlberg) knows the pain of economic stagnation all too well. Sure, he's a football star on the local sandlot, but that doesn't pay the bills, and those are piling up. He used to teach school, but lost that job. His part-time gig as a bartender doesn't pay that well. His wife, Sharon, walks out on him — leaving a note that says he'll never amount to anything. Why, Vince can't even lose himself in a football game: The Philadelphia Eagles are terrible, too.
Read more:
Take me out to the movies! 4 inspirational baseball films
But then a brash, young coach named Dick Vermeil (Greg Kinnear) takes the reins of the team and announces open tryouts to anyone in the city. Vince decides to give it a shot and, shockingly, makes the team. Sure, the Eagles might still stink. But suddenly it feels like, for the first time in ages, there's a chance for a turnaround — in both the football team's fortunes and in Vince's own life.
This Disney film is almost as clean-cut as its PG-rating would suggest (though viewers will hear a bit of language and see Vince and a new squeeze tumble into her apartment). Moreover, we again learn how important it is to not just dream big, but work hard to make them come true.
Remember the Titans (2000)
Available on Amazon, Google Play, iTunes and YouTube for 2.99
It's 1971 in northern Virginia. The Civil War's been over for more than a century. But for some at T.C. Williams' High School in Alexandria, the tensions still run deep.
The school is being forced to integrate, with the all-white high school getting an influx of African-American students. And while he doesn't know it just yet, top-notch coach Bill Yoast (Will Patton) is about to get a demotion … and a new boss: Strict disciplinarian Herman Boone (Denzel Washington). A team? The Titans are anything but. Seems more likely they'll fight each other than fight for a state title. And Boone has his own challenges, too: He's told that if the team loses even a single game, he'll be fired.
But Boone, an initially reluctant Yoast, and a few strong players find a way to forge a partnership and, in so doing, bring a sense of cohesion to this fractured unit. As they struggle to come together, Boone takes them on an early morning run to Gettysburg, where Boone tells them 50,000 men died. "If we don't come together right now on this hallowed ground, we too will be destroyed, just like they were," he tells them. "I don't care if you like each other right now, but you will respect each other." In the end, they do more than that: They come to love each other — and come together for a season indeed worth remembering.
Football is a violent, sometimes dangerous sport. Not everyone appreciates its nuances. But we can find lessons in football's folds — laudable heroes, inspiring moments and messages that speak to the heart and soul. There's some good to be found on the gridiron indeed, and these movies flesh it out.