All you need is a photo of yourself as a baby (or a good memory)!
What can God do in your life with one Bible verse a day?
Subscribe to Aleteia's new service and bring Scripture into your morning:
Just one verse each day.
Click to bring God's word to your inbox
For the the Jubilee Year that began December 8, 2015, and ran until last year, we were called by Pope Francis to draw closer to the great gift of God's mercy and to practice works of mercy. Hopefully, the jubilee year left us changed and we are still carrying that spirit forward. In order to do that, we need to practice mercy with ourselves. After all, you are more likely to forgive others if you can forgive yourself. You are more likely to be kind to others if you are kind to yourself. So how can we show mercy to ourselves when more often than not, we have trouble forgiving and being kind to ourselves?
Here's an exercise you can do, today, right now. It cultivates mercy for the self, so you may better pour it out to others. It's something I used to do regularly with my high school freshman English classes, and I have taught it more recently in my Adult Faith Formation classes.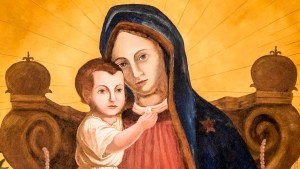 Read more:
What we can learn about mercy from the Aramaic word Jesus used for it
Find a picture of yourself as a baby (if you don't have one, just imagine yourself as a baby), and study it. Look at your cheeks, your eyes, your hands. Notice how adorable you were, how small. Now imagine that you were put in a basket with a note upon it reading: Please take care of this child.
Next, imagine yourself as you are now — an adult. Picture opening the door of your current home and finding the basket with this same baby inside. That's right: you open the door to yourself as a baby. The baby is crying and trembling. What do you do next?
Imagine how you might lift the child out of the basket and draw it near to you, whispering words of consolation. You might feed the little one, then kiss the soft cheek, patting the downy hair. You might rock and sing and coo until the little body relaxed and the eyes closed, breathing softening. You would do all of this for that precious child in a heartbeat. But that child is you.
Keep the photograph of you as a baby somewhere prominent in your house over the coming weeks, someplace you will encounter it anew every day, preferably somewhere you prepare each day for the hours ahead. This might be at your bedside, so you can see it as you wake up. Maybe you can put it in your bathroom, and look at that precious face as you prepare your own older, but still-precious, face for the day. Perhaps you can keep the photo in your car, where you'll see it right before you set off for work, or in a purse or wallet to surprise you in the busy commerce of things.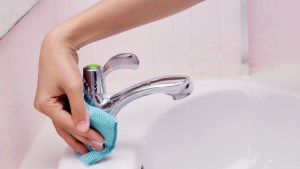 Read more:
10 Simple acts of mercy to slip into your everyday life
Ask yourself (and this is something you should journal): What do I want for this child? What are my hopes and dreams for her/him? What kind of person do I pray this child will be? Is there anything this adorable face could do that would make me stop loving her? How about your own, older face? It is tired in places, but its eyes still shine. What do you think God sees when He looks at you? What do you see?
Your take-away from all of this is that you are called to love yourself with as much tenderness as a baby deserves, with as much unconditional mercy. Forgive yourself the way you would forgive that baby for making a mistake. See the innocence and potential and beauty still there inside you.
One year, months after I did this exercise with a freshman English class, one of my students approached me and said that as a result of this exercise, she had reexamined her depressed thoughts of suicide and thankfully, chose to seek help. She had felt worthless, but in coming to love the baby she had been, she realized that she was still that same person, worthy of life. She wanted to learn how to love herself again, for the sake of the child she had been and the person she was meant to become. She confided in her mother and went to a rehab facility for several weeks. With counseling, she grew to be a confident young woman with hopeful dreams and ambitions.
Try this exercise and you may find self-mercy, and thus be able to better practice mercy with others. Look at the dear child you were. Reflect and journal on the questions above. Then, decide what you want for that incomparable child of God.