The best views of Rome were to be had by the poorest of the poor.
Starting on November 1, for the first time in decades, visitors to Rome will be able to climb to the highest level of the Colosseum and take in the same view the lowliest Romans enjoyed.
Of the 50,000 people who would attend the gladiatorial contests, mock sea battles and executions held at the Colosseum, the poorest among them, the "plebeian" class, were consigned to the highest tier of seats, similar to our "nosebleed seats."
Built by Emperor Vespasian in 70 BC, the Colosseum is the largest amphitheater in the world, and is considered among the finest examples of ancient Roman architecture. As the Telegraph reports, the emperor and his senators sat in the first level, and the second was reserved for imperial functionaries. The middle class sat in the third, while the fourth was for traders, merchants and shopkeepers.
The highest, fifth tier, was for the "plebs" who sat on wooden benches, instead of the marble ones found on the lower levels.
In 2015, during restoration work at the Colosseum, archaeologists discovered traces of red painted numerals on the arches of the amphitheater, indicating a ticketing system similar to those found in modern arenas.
"Only four arches were marked with numbers, since the Emperors and authorities enjoyed the privilege of entering the arches placed on the inner ring of the amphitheater. Those placed on the outer ring were reserved for normal people," Rossella Rea, the director of the Colosseum told International Business Times.
The IBTimes reported:
"The Roman numerals measure 34 cm tall and 2 cm wide, and the engraved numbers say XXXVIIII – XLII, which means 39-42. The red numbers would have been visible to crowds coming to the building from a great distance away."
As for the view from the top level, at 171 feet, visitors can take in the Roman Forum, Palatine Hill, and all of Rome.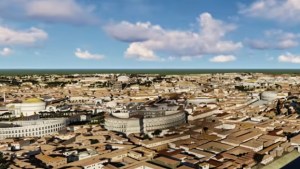 Read more:
Take a virtual tour of ancient Rome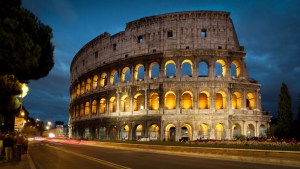 Read more:
The hidden history of Rome's Colosseum, revealed