Our unmoored young adults are often written off as 'useless' by older members of society; perhaps both groups need to hear this.
Our recent interview with "millennial monastic nuns" gave us an opportunity to hear from young women living in three different monastic communities of the Order of Preachers. All of them are part of a generation that is often treated with disdain, or written off completely.
But that write-off may not be entirely fair or thoughtful. Millennials have grown up with an especial sense of disconnect from life as it was previously lived and known. They are the generation that seems to have been born "hard wired" for the internet and the smartphone, and whose attention spans have been shortened in great part due to new media. They are often called "narcissistic" without consideration that they are the generation parented by people who were counseled by the "experts" to validate and overpraise them — with "participation trophies" and endless repetitions that "everyone is special."
In the famous words of Dash Parr — the lightning fast son from Pixar's The Incredibles — "When everyone is special, no one is …" and some millennials seem to realize it. They seem to be drifting as they try to discover exactly what their place is, in a world where nothing and no one is considered inherently special (or dignified) by virtue of their being made in the image of the Creator.
They are also the generation that grew up with 9/11, and Columbine, and campus violence and "Jihad-in-Place" and random shootings happening at simple, innocent pleasures, like music concerts.
As we must consider in light of the dreadful shooting in Las Vegas, we completely rely and depend upon the sanity and goodwill of our fellow citizens (and our law enforcement) in order to gather peacefully, constructively, together as a society. And that order and surety had begun to break down just as millennials were coming up.
As a young millennial recently wrote at Aleteia, "My girlfriend is constantly snapping me back to reality when my mind wanders because I'm scouting a new room for the best escape route, in case zombies (or shooters) burst through the door."
Millennials are the generation left unmoored spiritually by a secularist culture that each year more freely disdains notions of prayer or faithfulness, or certainty about the importance of the family, or surety about the purpose and vocational aspects of their own sexes.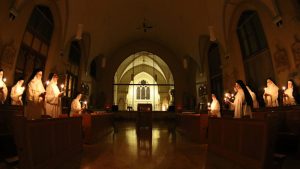 Read more:
Millennial and monastic: It doesn't get more counter-cultural than that
For many millennials, a sense of purpose and permanence — the sense of "vocation" — seems elusive, as our young writer admits:
"Illusions have fallen for us. Perhaps it's because we are the first internet generation with so much information, so much exposure to human weakness, sin, and misery. Maybe we're just overwhelmed, and drawing back. … An object at rest tends to stay at rest, but for us, an object in motion also tends to move toward rest. This is not good; I know it. My millennial friends know it. We're just uncertain about our next actions, or our next act."
The Dominican nuns with whom we spoke seem not to have experienced quite the same sense of groundlessness, even in their lives before the cloister where they have found their fulfillment ("It's been the best life," said one nun), but — by interesting coincidence — when Aleteia asked them how they would encourage their contemporaries to seek and find that same fulfillment, these nuns, answering separately, gave their generational cohorts the same answer, culled from the same source, Pope Benedict XVI:
"Are we not perhaps all afraid in some way? If we let Christ enter fully into our lives, if we open ourselves totally to him, are we not afraid that He might take something away from us? Are we not perhaps afraid to give up something significant, something unique, something that makes life so beautiful? Do we not then risk ending up diminished and deprived of our freedom? … No! If we let Christ into our lives, we lose nothing, nothing, absolutely nothing of what makes life free, beautiful and great. No! Only in this friendship are the doors of life opened wide. Only in this friendship is the great potential of human existence truly revealed. Only in this friendship do we experience beauty and liberation. […] dear young people: Do not be afraid of Christ! He takes nothing away, and he gives you everything. When we give ourselves to him, we receive a hundredfold in return. Yes, open, open wide the doors to Christ – and you will find true life. Amen."
And, as one sister concluded — in advice that is meant for millennials but is worthwhile for all of us, "Go before the Lord in silence, with empty hands and a thirsty heart. Take some time each week—each day if possible—to be still in His presence, especially His presence in the Eucharist. Bring Him your pain and your poverty, your doubts and fears, your desires and your joy. Listen to Him. Then follow where He leads, confident that true happiness is found, now and for eternity, in friendship with Jesus Christ."