The Sovereign Order of Malta was recognized by the Holy See way back in 1113. They're still at the service of the needy.
What can God do in your life with one Bible verse a day?
Subscribe to Aleteia's new service and bring Scripture into your morning:
Just one verse each day.
Click to bring God's word to your inbox
It sounds like something out of a history book or a Harry Potter novel, but the Sovereign Order of Malta is not at all imaginary, and — though it has been around for nearly a millennium — it is current and active in 2017, serving thousands of souls across the globe.
Aleteia's Polish edition sat down with the man who has the distinguished title of "Grand Hospitaller" of the Sovereign Order of Malta. (His full title is: Grand Hospitaller of the Sovereign Order of Malta, His Eminence Dominique Prince de La Rochefoucauld-Montbel, Bailiff of the Grand Cross of Honour and Devotion in Obedience.)
His Eminence told us that we must "try to give of yourselves."
"If you manage to strike a balance between giving and receiving, you will take your life to a much higher level," he said.
Here's the interview.
Konrad Sawicki: Who is the Grand Hospitaller of the Sovereign Order of Malta?
Dominique de La Rochefoucauld-Montbel: Historically, the Order of Knights of the Hospital of St. John of Jerusalem (the original name of the Order of Malta), since the very start, employed a person in charge of a hospital, hospice or pilgrims' lodge. His job was to take care of pilgrims and sick people and to offer hospitality to them.
This very function is perfectly aligned with the principal call of the Order of Malta, namely providing hospitality to and accompanying those in need.
This has not changed up to now. Each local structure of the Order around the world has its hospitaller, who is responsible for social and medical activities. The position of the Grand Hospitaller of the entire Order, a member of the Order's government, translates in contemporary terms to the Minister for Health and Welfare.
Say a few words about what the Order of Malta does today.
Our activities cannot be summarized in a couple of sentences. However, if we were to be brief, we should indicate that the Order is currently involved in around 2,000 various projects in as many as 120 countries worldwide. There are around 100,000 volunteers working for us, and more than 25,000 permanent employees. These are figures only, yet they demonstrate the scale of our operations.
We are talking here of activities such as running hospitals as well as homes for the elderly and people with disabilities. We can also point out our social work for the homeless and refugees and educational activities, involving running schools. In Africa, for example, the Order takes part in comprehensive campaigns combating AIDS, tuberculosis, malaria, and leprosy.
How about Poland?
We are present in Poland, too. We have our homes and projects, providing, for example, health care and medical rescue services. During the so-called Maidan in neighbouring Ukraine, we transferred many casualties for treatment in Poland.
This reminds me of another example of the Order's meaningful presence in Poland: During World War II there was a Maltese hospital in Poland's capital, which played an especially significant role during the Warsaw Uprising of 1944.
Right, this is true. Some time ago I visited the Italian region of Trent, where we had a hospital with 200 beds during World War II. This is how we serve.
When I last visited Poland, I had the pleasure of participating in a solemn celebration of offering a new ambulance funded by the Order to a rescue team. It was blessed by a priest and has been in use ever since. This is the mission of our Order.
How can one become a Knight of the Order of Malta today?
I would reply service, service and once again service. If you really want to serve, you stand a chance at becoming a member of this most unique organisation. We run hospitals in Africa and participate in sessions of the United Nations Organisation. I myself spoke at the UN on the migration issue.
In other words, when you serve as, say, a volunteer of our Order, step by step you are becoming a member of the family. When you enter this family, you want more and more. Everything, then, starts with service, with volunteer work. Later, one day, although this is not the path every single person is called for, you realize you would like to commit yourself even more to this vocation. Also at the personal, family and professional level. Your faith is of prime importance here: You live your faith and develop it in the service of other human beings.
We see Christ in the sick and the suffering. We see Him in refugees. The Gospel says: "I was hungry, and you gave me food; I was thirsty, and you gave me drink, etc." This is the essence of being a member of the Order of Malta.
If you crave such a way of life, you can enter our formation and become a member of the Order. This path means that you are involved in activities for the sake of the Church and provide assistance to the sick and indigent. All of this has to be done with much daily prayer.
Do Knights of Malta assume any spiritual obligations?
This resembles traveling by train a bit: You sometimes travel first class, other times second or third class, which corresponds to your decreasing level of comfort. However, for the Knights of Malta the order is reversed, and the closer you get to first class, the less comfort you have and the more service you need to offer.
Membership in the Order of Malta means that you are part of a Catholic organization. This means that you are expected to live a life of Catholic faith as best you can. For example, the first stage of formation takes 18 months and involves a special vow of obedience. Then you are entrusted with additional spiritual duties, such as the prayers of the Breviary, etc.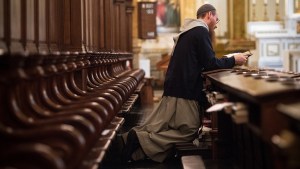 Read more:
What is the Liturgy of the Hours?
Still, service to others will forever be the most important factor. This does not involve simple assistance to the needy. When you see the suffering Christ in those people, your activity reaches a different level and becomes a spiritual matter. In this way, you accept another human being holistically, integrally.
If I am not wrong, this is a vocation for lay persons who have their families.
This is true, yet in the Order of Malta we have religious, too, those who have taken the vows of obedience, poverty and chastity. This has been a path of our ministry from the start, in the 11th century. In the 13th century, a fourth vow was added, which no other Order shares with us: a vow of service for the sick and poor.
This moreover demonstrates what is expected of a member of the Order. Following the path of vocation means that you need to be a witness through service. There is no other religious vow like that. You commit yourself to serving the sick and the poor until death.
The Order members wear special badges in the lapels of their coats.
True. The badge you wear depends on the class you take, to come back to what I said before about a train journey. The higher the class, the less there is in the badge. For instance, when you move to the second class, you lose a small crown in your badge. This, too, speaks volumes about our vocation: We reverse the hierarchy of earthly possessions here.
Has the Order of Malta been always so close to the institutional Church?
For 900 years we have been an institution of the Church, recognized by the Holy See in 1113. In the following centuries, the Order came to be recognized as an independent state, or a quasi-state. Today we can say that we are an institution recognized by international law and as such we have some attributes of a statehood. Few people know that the Order of Malta is recognized by and holds official relations with 106 states worldwide. We have our own ambassadors and representatives in such international organisations as the UNO, WHO, the Red Cross, FAO, etc.
At the same time, we remain a religious institution within the Church. That is why the head of the Order is both its religious superior and sovereign. His status is similar to that of an abbot or master of the order. This is similar to the Vatican and the pope, who is both the head of a state and a religious superior.
Speaking about the superior of the Order of Malta we must mention the problems you have been facing recently. Asked by the pope, the former Grand Master of the Knights of Malta had to resign, even though the role is supposed to be a lifetime position.
That's true. In the entire 900 years of the Order's history this is but the third case of something like this. We were dealing with a major crisis. At that time, I had a chance to speak to Pope Francis twice.
At present, we are headed by a temporary superior, the Lieutenant of the Grand Master, elected for a period of one year, and during this time we are redoubling our efforts to rebuilt trust and reform the Order.
Today, hundreds of Knights are involved in the process of a thorough reform, comparable a bit to the reform of Vatican II. At the same time, we are getting ready to elect a new Grand Master.
What would be the message of the Grand Hospitaller of the Maltese Order to readers of Aleteia, especially to young people?
This is no easy matter. Perhaps I would point out that making an effort and requiring a lot of oneself is important in anyone's life. This may be hard for the time being, yet the effort bears fruit in a higher quality of life. Your joy of life is immeasurably greater then.
Therefore, I would like to encourage young people to avoid being egoists and try to understand others. It is important to be able to listen to other people and notice those in need. You do not need to give away money in the street every day, but at least do not turn away your head. If a poor person comes up to you, do not look away but greet him or her and ask the person his name. If you want others to pay attention to you, you yourself need to pay attention to those who need it.
Finally: do not stop at only asking for something and expecting to receive everything. Try to give of yourselves. If you manage to strike a balance between giving and receiving, you will take your life to a much higher level.
[The interview took place at the Bellotto Hotel in Warsaw. This is a translation and adaptation of the original Polish.]