Jonathan Smith even took a bullet in the neck -- but still doesn't consider himself a hero.
It's difficult to think what we would do if we ever got caught up in a terrorist attack or a mass shooting similar to the one in Las Vegas on Sunday. We may like to think we'd look out for others, but in the panic and the inevitable stampede, the likelihood is we'd grab our loved ones and run like crazy. However, father of three Jonathan Smith nwittingly became a "hero" when he led to safety around 30 people, receiving a bullet in the neck in the process.
Jonathan Smith, 30, saved ~30 people last night before he was shot in the neck. He might live w/the bullet for rest of his life. #vegasstrippic.twitter.com/6hLujXWe51

— Heather Long (@byHeatherLong) October 2, 2017
The copier machine repairman from California was attending the Route 91 Harvest Festival with nine family members. Celebrating his brother Louis Rust's 43rd birthday, Smith and his family were close to the stage and country star Jason Aldean. What he initially took for fireworks quickly became a far more sinister realization when he saw Aldean run off the stage. Smith's quick thinking made him call out to his family to hold hands and run. Realizing that others in the crowd were confused and afraid he shouted: "Active shooter, active shooter, let's go! We have to run."
Running from the concert, Smith became separated from his three nieces — ages  22, 18, and 17 — but that didn't stop him grabbing others and leading them to a large field full of parked vehicles. As the bullets continued to rain down, he noticed a few young girls not fully hidden so he stood up to encourage them to lay low. It was at this moment he got shot in the neck.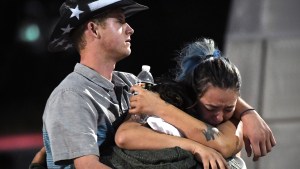 Read more:
A Prayer for Las Vegas, as the death toll climbs
"I couldn't feel anything in my neck," Smith told the Washington Post. "There was a warm sensation in my arm." Thankfully, an off-duty police officer was there to help stem the bleeding as Smith found breathing more and more difficult. After the officer flagged down a truck, Smith was taken to a nearby hospital, where doctors treated him for a fractured collarbone and cracked rib as a result of the gunshot. The bullet is still lodged in his neck for now as doctors fear removing it may cause further damage.
The viral photo of the wounded hero in the hospital has garnered comments of gratitude, respect, best wishes, and admiration. Former First Daughter Chelsea Clinton simply called Smith a "hero," a label he humbly refutes: "I don't see myself that way. I would want someone to do the same for me. No one deserves to lose a life coming to a country festival." Of course he's right, but it does take a real hero to think of others in such extreme circumstances.
In response to Smith's actions, social media has been busy trying to raise funds for the loving father of Jonathan Jr., Jayden Starr, and Julien to help cover medical costs and living expense while he recovers. And in true style, tragedy brings out the very best in us; the GoFundMe page has already surpassed the $7,000 goal, with donations reaching over $50,000. While this can no way make up for Smith's experience, hopefully it can help him appreciate that to thousands he is a genuine hero and we pray for his speedy recovery.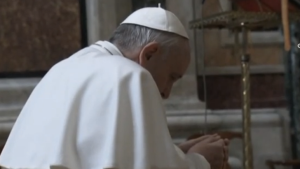 Read more:
Pope assures prayers after "senseless tragedy" in Las Vegas