A digital artist is using his life struggles to create a unique artistic voice.
When George Redhawk began losing his vision, he was working as a medical professional. But now he is finding in his own life inspiration for digital artistry, and the outcome is breathtaking.
In his series, "The World Through My Eyes," George shares his experience with his morphing eyesight, which is constantly in motion and which defies the logical order of the world that many take for granted. The result is gorgeous digital art that plays on our perspectives, visions, and expectations. His unique method of animation has been christened "The Redhawk Effect."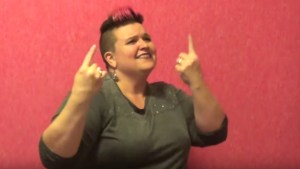 Read more:
This is how you sing 'Shut Up and Dance' in sign language (VIDEOS)
"Through his artistic creativity, man appears more than ever 'in the image of God,'" John Paul II wrote. "It's the gift of each artist to channel what is most difficult and messy in life into something more, into a 'new creation'."
George is the latest in a long line of artists who have channeled their life struggles and suffering into a unique artistic voice, and our visual perspective is delightfully challenged because of it.
You can view more of his digital artwork here.