Set your DVRs: The story of Mary you've always wanted to know
"What's the deal with Mary? Do you worship her?" Catholics around the world are used to these questions from non-Catholics and, unless you aced your Catechism classes in your youth, sometimes we struggle to provide satisfying answers.
When Brian Kennelly, editor of TAN books and St. Benedict Press, and co-collaborator Rick Rotundi were deciding how to honor the 100th anniversary of the miracle of Fatima, they decided it wasn't enough to re-tell the facts. They wanted to teach everyone how to "love Mary more," said Kennelly.
And to love her more, people need to better understand her.
"The story of Mary is like a Manet painting, a pointillist portrait that, up close, you don't get it," Kennelly said. "But, if you step back, you see the whole painting of Mary's life. Fatima also then has more meaning."
With that image in mind, Kennelly and Rotundi began researching and writing the Queen of Heaven book, group study guides, and video series, which airs on EWTN October 6-13. Writing and producing what Brian calls "an eternal biography of Mary" is no small endeavor.
Reading definitive works from the likes of Archbishop Fulton Sheen, Scott Hahn, Tim Staples and many others, this biography spans "thousands of years. Relaying the story of Mary and Jesus is not simple. There's a lot of theology to be unpacked and dogma and mysticism to understand." 
Their project features interviews from an all-star list of Marian theologians including Dr. Mary Healy, Tim Staples, Dr. Paul Thigpen, Father Dominic Legge, and Dr. Jem Sullivan. "It's no surprise when you get some of the greatest minds in theology they came up with very intriguing perceptions about Mary," Kennelly said.
Time and budget constraints didn't allow for onsite visits to Fatima, Rome, Guadalupe, and other known sites in the story of Mary, but US locations were helpful, including the World Apostolate of Fatima in New Jersey, the Pontifical John Paul II Institute and National Shrine in Washington, DC, and Sacred Heart Seminary in Detroit. The most uprising of these sites, for Kennelly, was the Franciscan Monastery of the Holy Land in America in northeast Washington, DC. "It was remarkable, a must-see."
While his own personal understanding and love of Mary deepened through the process, Kennelly says he better understands "how much the Devil and his minions hate her." Perhaps by coincidence (or not) he and his family suffered through a seeming plague of illnesses and accidents throughout the intense production pace — multiple, and violent flu bugs, pericarditis, shingles, joint infections and more. 
Looking back now, he see some humor in it all — although not in the moment his wife Tina fell through the attic, legs dangling into the floor below for several minutes until he could rescue her. He firmly believes that if the family was paying a price for the project, it was worth it. 
Tina Kennelly is now pregnant with a baby girl, their fourth child, who is due to arrive Christmas Day. This of course means that the likely date of conception was March 25th, the Feast Day of the Annunciation, when we celebrate the conception of Jesus in Mary's womb. The baby already has a name. It's Mary, of course. "Mary doesn't just answer our prayers, she gives you a wink too," the proud dad and husband mused.
Knowing what he does now, how would Brian answer that frequent question often posed to Catholics:  What's the deal with Mary? Do you worship her?
"The difference is we venerate Mary and we worship Christ," notes Brian. "All she will do is lead us to Jesus. If we love her more, she will help us to know and love Jesus more. Love isn't binary. We don't have to pick our mothers over our fathers. Intermediaries [like Mary and the saints] always bring you to Jesus."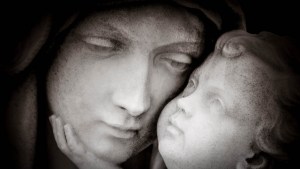 Read more:
"To Jesus through Mary": I finally get that!