The body has its own symbolism that artists have highlighted over the centuries.
What can God do in your life with one Bible verse a day?
Subscribe to Aleteia's new service and bring Scripture into your morning:
Just one verse each day.
Click to bring God's word to your inbox
As Catholics, we believe in the inherent dignity and beauty of the human body. The body is not something to be used or abused, but something to be cherished and honored. In speaking to artists in the Sistine Chapel, St. John Paul II said, "In the context of the light that comes from God, the human body … keeps its splendor and its dignity."
It is only when the human body is divorced from God that the body is taken out of context and used for selfish purposes.
Over the centuries artists have highlighted different parts of the human body to teach various spiritual truths. They have done so recognizing that God is the ultimate source of the body's beauty and everything about it points us back to God.
Here is a sampling of the symbolism that artists have seen in the human body.
Head
Due to its central role in directing the human body, the head is seen as the seat of wisdom and knowledge. Christ is often referred to as the Head of the Church as he directs all the members of his body, leading them in how to live a holy life.
Hair
Hairstyles in art have taken various meanings over the centuries. In a Christian context, loose, flowing hair was a symbol of penitence, referring to the Gospel account of the penitent woman who washed Jesus' feet with her tears and wiped them with her hair. Unmarried women typically wore their hair uncut and uncovered, and this is why virgin saints are usually pictured in this way. For men, long hair was sometimes seen as a symbol of strength, in connection to the story of Samson.
Shaved heads and tonsures were also symbols of a monk's dedication to God.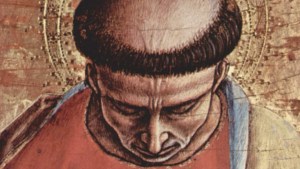 Read more:
Why do monks have strange haircuts?
Eyes
Eyes are very important in the spiritual world and Jesus refers to their role in the Gospel of Matthew, "The eye is the lamp of the body. So, if your eye is sound, your whole body will be full of light; but if your eye is not sound, your whole body will be full of darkness. If then the light in you is darkness, how great is the darkness!" (Matthew 6:22-23) Counter-Reformation artists like Guido Reni often depicted saints with their eyes dramatically turned toward heaven in ecstasy.
Hands
The human hand has often been used to represent the "hand" (or creative power) of God. This frequently occurred in early Christian art when artists did not want to use an anthropomorphic representation of God.
Additionally, the way a human hand is gesturing in art is very specific and has multiple meanings, as we discussed here.
Feet
Human feet have contact with the earth and were used in art to symbolize humility and service. This symbolism is found in the Last Supper when Jesus washes the feet of his disciples, an act normally performed by a slave. The Madonna of Humility, influenced by Franciscan spirituality, is shown barefoot and seated on the ground. Taking off one's shoes is a biblical sign of being on holy ground or in a sacred place.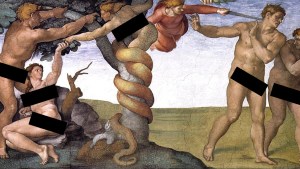 Read more:
Nudes in sacred art convey 4 different types of symbolism